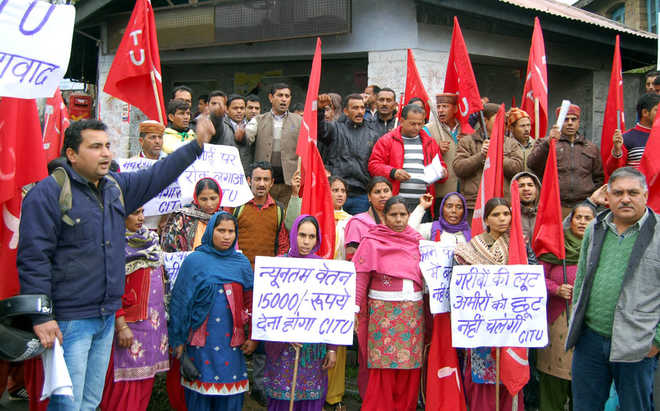 Tribune News Service
Mandi, February 26
Several trade unions today held a demonstration against the "anti-labour" policies of the Narendra Modi government.
Centre for Indian Trade Union (CITU) district president Bhupender Singh said the labour reforms initiated by the Modi government were "anti-labour and pro-industrialists".
He said a charter of demands had been sent to Prime Minister Narendra Modi through the Deputy Commissioner seeking the rollback of "anti-labour" initiatives taken by the government.
He said the Union Government had started "attacking the labour class" by making changes in the labour laws.
"Several anti-labour amendments were being incorporated in the Factory Act," he said and added that the provision of minimum wages for the trainee had been removed from the Apprentice Act, cap on working hours removed and terms and conditions of the service would be dictated by factory owners. The government had also decided to amend contractual laws at the instance of industrialists and foreign companies.
It would adversely affect the working class in the country, he added.
Bhupender said the trade unions would oppose any move of the Modi government to dilute the labour laws.
He said their main demands include minimum wages of Rs 15,000, implementation of the labour laws, pension for workers and no disinvestment in the public sector.
He said the Centre had also announced to disinvest profit-making public sector units, including banking, insurance, coal, railways, shipyards, airports etc.
"The new policies would only benefit industrialists and not the labour class," he said.
CITU vice-president Paras Ram, general secretaries Rajesh Sharma and Anil Sharma, Bharatiya Mazdoor Sangh district president Ashok Prashar and secretary Mitra Dev, All India Trade Union Congress leaders Prakash Pant, Raj Singh Mandyal and Mohal Lal, and Indian National Trade Union Congress leaders YP Kapoor, Hemraj Malhotra and Naresh Kumar were among others who led the protest.