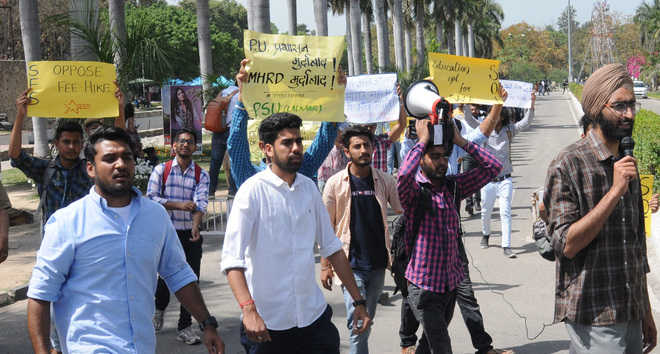 Tribune News Service
Chandigarh, March 28
Several student outfits, including the SFS, NSUI, ASA, SOI and PSU protested against the increase in fee on the Panjab University campus here today. A march was organised from the student centre to the Vice-Chancellor office.
Karan Randhawa, campus president, SOI, said, "This is for the first time in the history of the university that there is a fee hike of about 1,100 per cent. This is a shameful act on the part of the authorities and will burden the students."
He said there was a need for the students to stand together against the decision. "I appeal to all students to support us because education is our democratic right," Randhawa said.
The SFS submitted a memorandum in this regard to PU Vice-Chancellor Arun Kumar Grover.
Student representatives said the Centre and the Punjab government should take the responsibility towards the financial crisis of the university.
"The Modi-led government is pushing the agenda of commercialisation of education, along with the saffronisation of universities. The Vice-Chancellor should call the senate meeting immediately to roll-back the decision, otherwise students would retaliate," said SFS president Daman Preet.
Balinder Kumar, organising secretary, Ambedkar Students' Association (ASA), said the administration of Panjab University was denying the weaker section of education by increasing the fee in various courses. He said the increase in fee was a violation of the Right to Education.
Other ASA members said the decision was not in favour of the students, many of whom hail from rural areas and humble background. They lamented that it would also affect the education of girl students.
Jasvir Singh, media secretary, said the university administration was wasting money on furniture and on the beatification of the university.