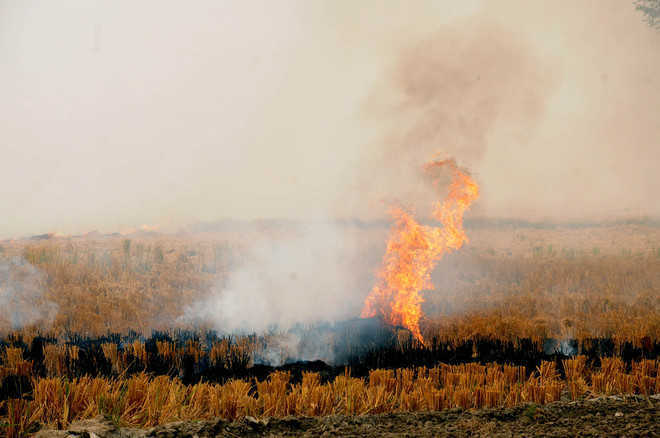 Chandigarh, October 19
Ignoring warnings by state authorities on burning paddy stubble, many farmers in Haryana and Punjab are still continuing the banned practice, leading to health risks and adversely affecting soil health.
Both the Haryana and Punjab governments have imposed a ban on burning of paddy residue and the erring farmers can also be prosecuted by authorities.
However, reports from various areas, including Karnal and Patiala, suggest that farmers are still burning paddy straw despite being asked to shun the practice by the authorities, including the state pollution control boards and the agriculture departments.
Farmers are also being provided subsidy on farm implements like happy seeder, rotavators, straw reapers for managing straw in a sustainable manner to stop the practice.
In the last few years it has been noted that when stubble is burned in the two leading agrarian states, the pollutants enter Delhi, adversely affecting the air quality in the national capital.
The magnitude of the problem can be gauged from the fact that within a span of just three weeks in the current harvest season, authorities in Haryana have initiated action in 480 incidents of paddy burning.
"We are taking action as stubble burning is a serious issue. Till yesterday, we have initiated action in 480 cases against those found burning the stubble," Principal Secretary, Environment Department-cum-Chairman, Haryana State Pollution Control Board (HSPCB), Shrikant Walgad told PTI today.
He said fines were imposed on violators and cases under the Environment Pollution Act were tried by environment courts at Kurukshetra and Faridabad.
Asked in which areas of Haryana the problem was more prevalent, Walgad said, "Generally it is the paddy belt of Kaithal, Kurukshetra, Karnal and Yamunanagar".
Burning of paddy residue causes air pollution, smog and also poses a serious threat as it leads to medical problems such as breathing issues, allergies and asthma attacks.
It causes emission of smoke and toxic gases such as carbon dioxide, carbon monoxide, methane and nitrous oxide. It also leads to poor soil health by eliminating essential nutrients, agri experts said. — PTI