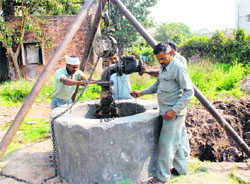 Aman Sood
Tribune News Service
Patiala, November 26
A research report recently prepared by the Indian Council of Agriculture Research (ICAR) is set to cause alarm in Punjab and Haryana.
The report submitted last week establishes that Punjab and Haryana feature among the 12 states in the country where groundwater contains arsenic beyond the permissible limit.
The report further points to the fact that a large quantity of this contaminated water is used for agriculture, thus entering the food chain.
The report further suggests that vegetables and other crops grown in the contaminated belt in the two states have high level of arsenic.
"Excessive tapping of groundwater through shallow tube wells for irrigation, particularly in rabi/summer crops, is a major cause for arsenic contamination in crop produce. It may adversely impact human, animal and environmental health," reads the report.
The report claims that while there is no direct link between high arsenic content and cancer, "it is a major reason for many other diseases in humans and animals through the food chain".
In Punjab, high arsenic content has been found in vegetables like cauliflower, lady's-finger and even paddy.
Renowned economist Sucha Singh Gill, Director General, Centre for Research in Rural and Industrial Development (CRRID), Chandigarh, said that Punjab farmers have been following the wheat and paddy cycle for the past many years and using more than the required pesticides to save their crop.
"In this mad rush for a bumper crop, the farmers have polluted the soil. Successive governments have failed to check this menace. Many crops grown in Punjab have been rejected for export to European countries due to high chemical content. Arsenic in these crops will further ensure that our farmers are never able to enter the well-paying markets of Europe," said Gill.
Last year, the Union Ministry of Water Resources had directed the two states to prepare an action plan to contain the contamination.
In 2014, the Central Ground Water Board (CGWB) collected 50 groundwater samples from Punjab. Arsenic contamination — more than 0.05 milligrams per litre (mg/l) — was found in six districts. These include Gandiwind (Amritsar district), Patti (Tarn Taran), Jhunir (Mansa), Dhilwan (Kapurthala), Ropar and Fazilka. In fact, 30 more blocks in 13 districts of Punjab have arsenic contamination ranging between 0.01 and 0.05 mg/l.
The same report suggests that Punjab should replace water-guzzling crops like boro-rice and vegetables and replace these with wheat, coarse cereals, oilseeds and pulses that accumulate less arsenic.
"Promoting agro-forestry on farm bunds, direct seeded rice, creating farm ponds, minor irrigation tanks, installation of deep (more than 80m depth) tube wells and other steps should be taken to reduce arsenic in the food chain," states the report.
Top Stories