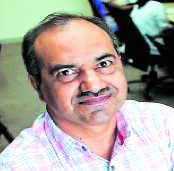 Deepti Verma
Tribune News Service
Mumbai, March 18
Experts from Tata Memorial Hospital (TMH), the country's top cancer treatment facility, have debunked as a "myth" the tag of "cancer belt of India" being attached with Punjab, especially the Malwa region.
The number of cancer cases being reported in Punjab, TMH Director Dr Anil D'Cruz told The Tribune, is far less than several other states. "Calling Punjab a 'cancer belt' is incorrect," he says. "There are 100-110 cases from the state for every 100,000 incidents across the country, which is almost equal to the national average. However, the North-East worries us with double the national average."
Another TMH expert, Dr Rajesh Dikshit, who was instrumental in setting up a cancer hospital in Sangrur, says it will be wrong to label Malwa as being cancer-prone merely on the basis of the presence of uranium in groundwater and overuse of pesticides and fertilisers.
"The kinds of cancer prevalent in the area are similar to the ones common across other parts of the country. The most common cancer prevalent in Punjab is that of oesophagus, followed by breast and cervical cancer. These are directly related to the faulty lifestyle and caused by smoking, consumption of alcohol, obesity and late-age marriages. A high dose of pesticides and fertilisers leads to lymphoma cancer (that affects the immune system) and that of uranium
causes leukaemia or brain tumour. There is nothing abnormal about the number and kinds of cancer prevalent in Punjab," he says.
One reason for the "infamous tag" being in place for so long, Dr D'Cruz reasons, is "Punjab's poor maintenance of a cancer registry". "So, when we set up a hospital in Sangrur, we concluded that there is nothing to panic about. The cases are on a par with the average number of cases reported from across the country." Past studies showed Malwa region having the highest number of cancer patients. Muktsar district fared the worst, closely followed by Mansa, Bathinda and Ferozepur. Dr Dikshit, however, cautions against any generalisation.
"The number of cancer cases also depends upon the population size. Therefore, it is good to compare the rate, which takes into account both the number and population."
About the past studies blaming uranium and pesticides for the high rate of cancer in the state, he says: "Those were cross-sectional surveys, which give information on incidence as well as prevalent cases and hence the number observed will always be more. The cancer atlas, which is based on histopathology records only, is not the right way to assess the burden of cancer. The most appropriate study design is a Population Based Cancer Registry." The Tata Memorial Centre in collaboration with PGIMER, Chandigarh, started the cancer registry in Punjab on January 1, 2013.
Top News
Banking sector resilient, says Reserve Bank of India | Marke...
Karmakar's dope sample collected out-of-competition by the I...
The minimum being charged by a cartel for a foreign national...
250 evacuated | 19 houses, mosque, madrasa declared unsafe