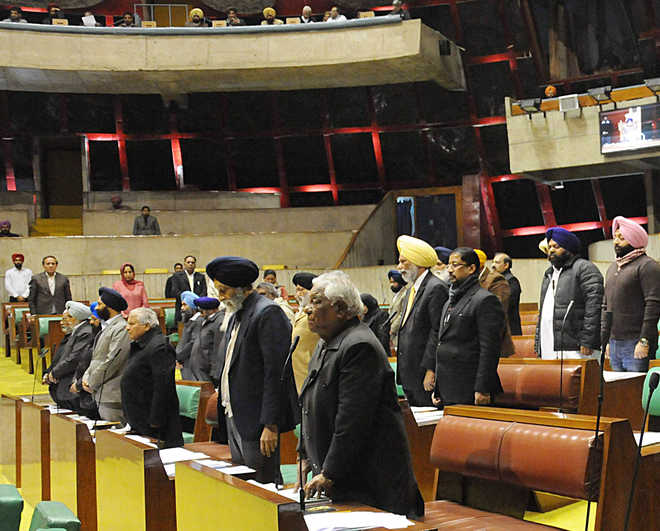 Ruchika M Khanna
Tribune News Service
Chandigarh, December 19
The Punjab Assembly passed the Punjab Employees Welfare Bill, 2016, in a special session conveyed on Monday as the Opposition MLAs stayed away. As many as nine Bills were passed in 35 minutes.
Services of over 27,000 ad hoc and contractual employees, who have been in service for three years, will now be regularised.
(Follow The Tribune on Facebook; and Twitter @thetribunechd)
The session had been called to convert the ordinances into Bills and get them passed in the House, after Governor VP Singh Badnore had refused to sign the ordinances.
Parliamentary Affairs Minister Madan Mohan Mittal presented the Punjab Employees Welfare Bill, 2016. The Bill was passed with unanimity by all the SAD-BJP MLAs present.
Chief Minister Parkash Singh Badal was not present in the House.
Mittal said this was a historic Bill as ad hoc/contractual employees of the Punjab Government were being regularised.
"It's sad that the opposition MLAs stayed away from the House," he added.
The decision to call a special session was taken after a delegation led by Deputy Chief Minister Sukhbir Singh Badal and senior BJP minister Madan Mohan Mittal called on the Governor on December 16, requesting him to sign the ordinances.
The latter, however, refused to do so, citing some "irregularities", including the one to regularise services of 27,000 contractual employees.
Governor Badnore is learnt to have said that the government should desist from taking the "ordinance route" and instead get the legislative business passed in the House. Sources say the delegation then sought his permission for a special session.
A Cabinet meeting was called in the evening and a one-day session recommended to get the pending Bills passed in the House. By late evening, the government had also got the approval from the Governor to bring in some money Bills.
The Governor's appeal is pending for as many as five ordinances, including the one to change the terms and conditions for appointing chairmen in the Punjab School Education Board; creating an additional post of Senior Vice Chairman in the Board; creating a post of Senior Vice Chairman among women; and appointments in the Punjab Water Supply and Sewerage Board.
While the Akali-BJP hopes to garner support of the huge employees base with the regularisation of posts, it wants to "adjust" political rebels and the "faithful" in various posts ahead of the model code of conduct.