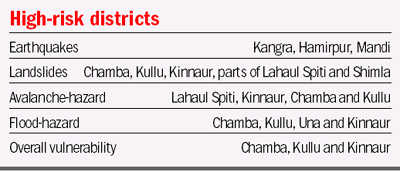 Pratibha Chauhan
Tribune News Service
Shimla, October 9
The first-ever Disaster Analysis and Management report compiled by the state government emphasises the high vulnerability of major parts of five districts of Kangra, Chamba, Hamirpur, Kullu and Mandi to earthquakes as 80 quakes of more than 4 magnitude have rocked HP.
These are the findings of the latest report (September 2016) compiled by the Department of Economics and Statistics. The analysis has compiled complete district-wise disaster vulnerability with regard to earthquakes, flash floods, landslides and avalanche hazard which must be borne in mind by the government while taking any decision or giving relaxations.
The report reiterates the need for better preparedness to tackle any disaster, especially an earthquake, considering the fact that over 90 per cent areas falling in Kangra (98.6 per cent) Mandi (97.4 per cent) and Hamirpur (90.9 per cent) fall in the severest vulnerability of IX severest design intensity zone. Close on the heels of these highly vulnerable districts are Chamba (53.2) and Kullu (53.1), which could also face extensive damage on account of an earthquake. It points out that though the state is prone to many hazards, earthquakes can pose a serious challenge.
Notwithstanding the report on disaster vulnerability, the government proposes to regularise the over 20,000 structures as a one-time relief to violators.
This move has already come in for severe criticism as it raises serious questions about the safety of such structures and the potential threat it could cause to human life.
In case of landslide threat, Chamba, Kullu and Kinnuar are considered the most susceptible. However, in case of overall vulnerability of the state on the basis of matrix clearly suggests that Chamba, Kinnaur, Kullu and parts of Kangra and Shimla fall in the high vulnerable risk.
"The data present in the report can be used for preparedness to meet the challenges posed pre and post disasters and to strengthen the capacity and capability of various government agencies to mitigate the impact of the disaster," said Pradeep Chauhan, Economic Adviser.
Una, Bilaspur, Sirmaur, Shimla, Solan and Lahaul-Spiti are considered as low vulnerable ones.
Top News
Harried passengers take to social media to vent their ire at...
Lapid had stirred a massive controversy by terming Vivek Agn...
Final turnout to be higher as voting process continued at po...
DigiYatra will provide seamless entry and embarkation proces...
His song 'Mahakaal' removed from YouTube after 19 hours