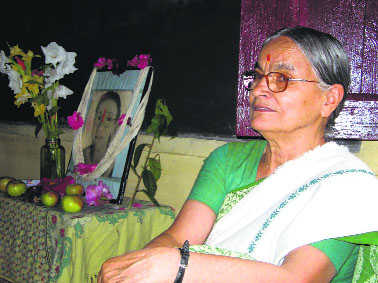 BD Kasniyal
Pithoragarh, August 23
Sarla Behn left her legacy in the hands of her able disciple Radha Bhatt and the work of empowering hill women continues from Kausani where the ashram is still active in the spheres of women education, environment conservation, natural life and Satyagraha for a ban on liquor in the hill region. Radha Bhatt has been spreading Gandhian Nayi Talim and Sarla Behn's women empowerment vision in the hill region.
Radha was born in a traditional family of Army men at Dhurka village, near Almora, on October 16, 1931. She had to struggle to continue her education as people were opposed to educating girls. "I was groomed by my father who revolted against the prevalent orthodox belief that as I was born in wrong stars, he should not see me. He gave me sufficient love. With my mother I realized the tough schedule of hill women, as I used to accompany her to distant places to collect fodder and firewood," said Radha.
Radha after finishing her secondary education chose social service over married life. She came in touch with Sarla Behn in 1951 and reached the Kausani ashram. She joined the Kasturba Mahila Uthan Mandal established by Sarla Behn to promote education and self dependence among hill women. "It was automatic attraction for me as Sarla Behn wanted to make hill women self-dependent, self respecting and educated. I was 17 at that time and was full of energy to work for the mission," said Radha.
Radha had to face the envy of male inmates at the Kausani ashram when Sarla Behn gave her the responsibility of running the Kasturba Mahila Uthan Mandal in 1966. She started working hard in close coordination with the ashram inmates to win their trust. "We coordinate every activity of the ashram whether milking cows, cleaning cowsheds, cutting fodder or working in office," said Radha.
She later expanded her working area and established the model of Gram Swaraj at a remote village in Almora district and adopted Baugar village for five years for the purpose. "We opened a night school for women, started vegetable cultivation for generating cash income, reared animals for milk produces and educated villagers to adopt natural and traditional mode of farming," she said.
Radha also took active part in the Chipko movement, anti-mining and anti-liquor agitations and the agitation against Tehri Dam from 1970 to 1990 and remained in jail several times.
To spread Gandhian thoughts abroad, Radha undertook trips to Scandinavian, European and Asian countries from 1975 to 2014. "She headed the Laxmi Ashram at Kausani for over 23 years, and later headed the Kasturba Gandhi National Memorial Trust, Indore, and the Sarv Sewa Sangh for some time. She became the first woman chairperson of the Gandhi Peace Foundation, Delhi, in 2006. She lives in Delhi nowadays," said Neema Vishnav, manager of the ashram at Kausani.
Radha has received the Janki Devi Bajaj award, Godavari award, Indira Priyadarshini award, and the Muni Santbal award, for her contribution to spreading and realizing Gandhian thoughts. She was nominated for the coveted Nobel prize for peace last year.