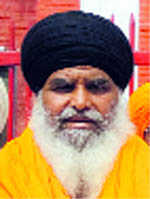 GS Paul
Tribune News Service
Amritsar, May 3
The Takht 'Jathedars' appointed at the radicals' 'Sarbat Khalsa' last year have announced to set up a parallel Akal Takht secretariat near the Golden Temple.
Talking to The Tribune today, Akal Takht 'acting Jathedar' Dhian Singh Mand said the secretariat would be used to deliver the customary address to the Sikh community on designated occasions.
During the 'Sarbat Khalsa' held at Chabba village in Amritsar district on November 10, 2015, former Punjab Chief Minister Beant Singh's assassin Jagtar Singh Hawara had been named the Akal Takht 'Jathedar'. Since Hawara is behind bars, Mand was given the charge of 'acting Jathedar', while Damdami Taksal (Ajnala) head Amrik Singh Ajnala was named the 'Jathedar' of Takht Kesgarh Sahib and Baljit Singh Daduwal as the 'Jathedar' of Takht Damdama Sahib.
The 'Sarbat Khalsa'-appointed Jathedars are presently touring the five Takhts, starting from Takht Hazur Sahib. They will visit Takht Patna Sahib on May 7, Akal Takht on May 10, Takht Kesgarh Sahib on May 13 and Takht Damdama Sahib on May 15. They have already announced to hold the next 'Sarbat Khalsa' at Talwandi Sabo on November 10.