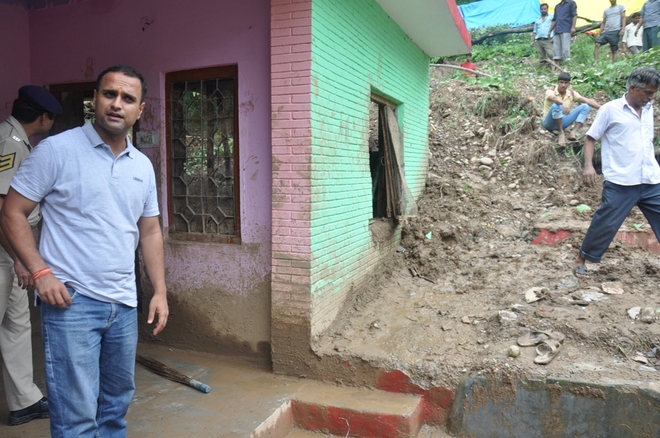 Tribune Reporters
Dharamsala, August 11
Rain damage has mounted to Rs 48 crore in Kangra district in the last two months. Deputy Commissioner, Kangra, Ritesh Chauhan, stated this at a press conference today.
He said the loss to PWD properties, including roads and bridges, had been estimated at Rs 22 crore and that of the Irrigation and Public Health Department at Rs 23 crore. The loss to properties of the power department has been pegged at Rs 63 lakh. This includes loss to transmission wires and transformers. "As per reports, loss to private properties due to landslides and floods in Kangra district was Rs 2.85 crore," the Deputy Commissioner said.
He said 65 pucca houses were damaged and four reduced to rubble. About120 kutcha houses have been damaged and seven have been destroyed due to landslides. Thirteen shops have also been damaged. The Deputy Commissioner said the district administration had released Rs 50 lakh for those whose properties had been damaged. He said residents of Chola village that witnessed landslides about a fortnight ago had been moved to safer places. "The people living downstream the Pong Dam have also been asked to move to safer places due to the danger of water being released from the dam," he said.
Bridge gives way
Kangra: Kangra SDM Madhu Chaudhary said a bridge on the Zamanabad road had caved in following incessant rain. The SDM said a bridge on the Sunni Sarotri road, the link road connecting NH 88 with the Pathankot Mandi National Highway, popularly known as "Bhatta Road", had given way. She said Executive Engineer, PWD, Surender Pal Jagota visited the Pathankot Mandi National Highway and asked the SDO to prepare an estimate for the repair. Jagota said landslides had damaged roads linking Shahpur, Drehni, Redikmar-Boh, Ranital-Kotla, Rehlu-Boranswala and Kangra-Bordkuwaloo. Satish Naag, Superintending Engineer, National Highway, Shahpur circle, said the damage in the area had been estimated at Rs 3 to Rs 4 crore. He said the Jallandar-Mandi National Highway 70 and National Highway 305 were washed away. Naag said the bridge on NH 88 at Bahloogloava would be restored within a week.
Top News
International body objects to 'undue influence' from 3rd par...
Russia has repeatedly threatened to fine sites - including G...