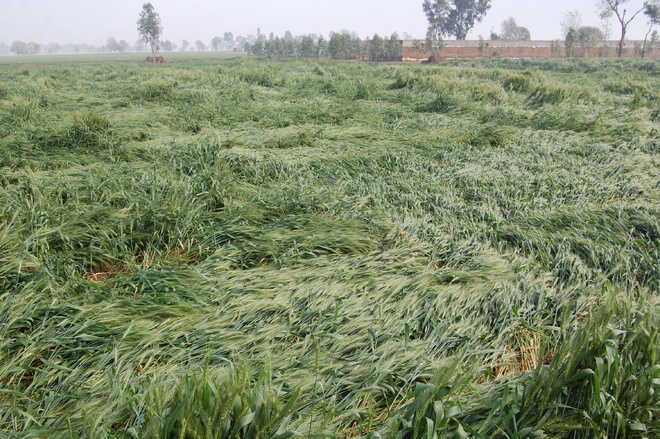 Deepender Deswal
Tribune News Service
Hisar, March 6
The unseasonal light to moderate rain, along with strong winds and hail, damaged wheat crop in Hisar and neighbouring districts.
The crop was at an advanced stage, farmers said, adding the damage was around 40 per cent. The extent of damage in the late sown variety, however, would be lower, they said.
The Agriculture Meteorological Department of Haryana Agricultural University (HAU), Hisar, recorded an average of 11.9-mm rainfall in the district in two days. Strong winds and hail wrecked more havoc.
An HAU official said early sown wheat and mustard crops, which were at the ripening stage, suffered more damage.
The worrying signs are far from over, as the university's weather forecast predicts cloudy atmosphere on March 10 and 11.
Dayanand Punia, a farmer of Budak village, said Saturday night's downpour flattened large tracts of wheat crop. "Farmers have suffered around 40 per cent losses. The damage in the late sown fields is relatively low," he said.
An agricultural scientist in the HAU, however, said: "Rain is favourable for the late sown wheat crop." He, though, added more rain would be harmful. "Farmers who have irrigated the fields just before the rain will also be at a disadvantage. Wind at 9 kmph has done more harm that moderate rain."
Top News
Bills were passed after more than six hours of debate spanni...
Among the 10 who put in their papers are nine Lok Sabha MPs,...
Resignation of Union ministers also revived speculation of r...
The withdrawal of statement by MP Senthil came when the Hous...
The Punjab DGP office had written a letter to Rajashthan Pol...