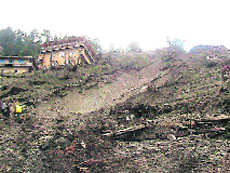 Amir Karim Tantray
Tribune News Service
Jammu, April 5
With the recent torrential rain leading to widespread damage, 17 persons and 900 heads of livestock have been killed and 4,300 houses and more than 700 cowsheds damaged in the Jammu region.
The population in all 10 districts except Jammu city have been affected due to the rain. The road network, mostly in hilly areas, has suffered extensive damage and most roads are yet to be made functional.
The Jammu-Srinagar national highway has suffered huge losses. Several landslides and sinking of land has led to the closure of the only surface link to the Valley for several days.
"The rain has led to widespread damage in the entire Jammu region and the problem is not over yet," said Pawan Kotwal, Jammu Divisional Commissioner.
"The occasional rain is not allowing the administration to do its work. We have no dearth of money for relief and rehabilitation, but are waiting for the weather to improve," he said.
Due to the landslides and sinking of land, hundreds of families have been shifted to safer places in Doda and Kishtwar districts. Some areas of Poonch district have suffered huge losses as well and the administration is in the process of assessing the losses.
Giving details, Kotwal said, "Seventeen persons have been killed, around 700 houses fully damaged, around 1,100 houses severely damaged and around 2,500 houses partially damaged."
He further said, "Apart from this, around 900 heads of livestock have been killed and more than 700 cowsheds damaged." The erstwhile Doda district, comprising, Doda, Ramban and Kishtwar districts, are the worst affected. Several hundred houses have been damaged and families shifted to safer places.
The Batote-Kishtwar national highway, which is the lone road link for more than 7 lakh persons residing in Doda and Kishtwar districts, is on the verge of collapse. In Poonch district, flashfloods have led to extensive damage and several areas still remain cut off from the rest of the state.