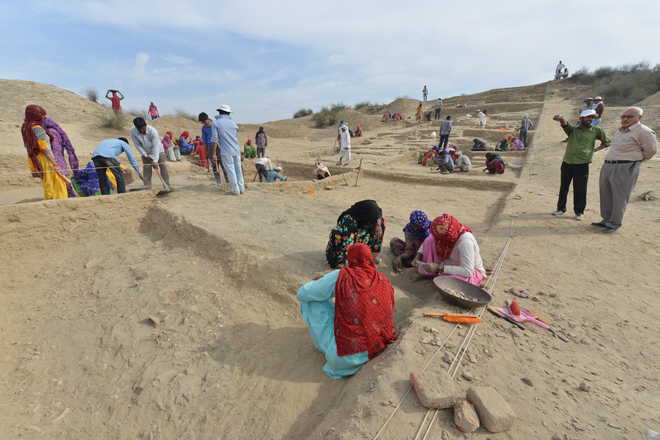 Deepender Deswal
Tribune News Service
Rakhigarhi (Hisar), May 2
Archaeological findings and scientific data have indicated that Rakhigarhi had been the more important centre of the Indus Valley Civilisation than the townships of Harappa and Mohenjo Daro located in Pakistan.
The team of archaeologists revealed that the excavation at this site is all set to change the view that Mohenjo Daro was the capital city of the Indus Valley Civilisation. "Instead, the scientific data collected on the basis excavations here have strongly pointed that Rakhigarhi, a metropolis, was perhaps the capital of its times about 5,000 years ago," said Prof Vasant Shinde, in charge of the excavation and Vice Chancellor of Deccan College, Pune. Deccan College and the Haryana archaeological department have been jointly carrying out the excavation at the site from last three years.
To prove his point, Prof Shinde said this site was spread in over 550 hectares, which is about double than that of the Mohenjo Daro site, which was considered the biggest site till now.
"We have collected evidences of massive manufacturing and trade activities in this town, which revealed the economic organisation and the foreign links of people here. They had trade links with people in Rajasthan, Gujarat, Baluchistan and even Afghanistan. The city flourished during the early Harappan era dating back to around 3,300 BC and existed till 2000 BC," he said.
Moreover, the DNA samples collected from the skeletons at the cemetery here are set to crack a major mystery surrounding their lives, character, diseases and race of the people who lived here 5,000 years ago.
"Scientists have, for the first time ever, succeeded in extracting DNA from the skeletons of the Indus Valley Civilisation. More skeletons have been found during the ongoing excavation season from mound no.2 for further analysis. Three different institutes of world repute are conducting the DNA analysis for a foolproof study, so that there is no scope of any contradiction," Prof Shinde said.
He said this was the best and most unexplored site related to the Indus Valley Civilisation so far. "So much material is available here that it would take 100 years to complete the study on uninhabited mounds on the outskirts of the village.
Health Minister Anil Vij, who visited the site on Saturday, said since Rakhigarhi was turning out to be the biggest and most crucial Harappan site in the world, the state government had decided to set up a museum, research centre and a hostel for the researchers in the village.
Top News
'Invested in property' linked to drug accused kabaddi player
'No faith': Girl refuses to file complaint