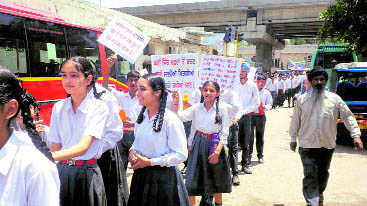 Our Correspondent
Dera Bassi, May 16
With the aim of combating deadly disease dengue, hundreds of schoolchildren today participated in an awareness rally organised by the ATS Rotary Club in collaboration with the Health Department.
NK Sharma, Chief Parliamentary Secretary, flagged off the rally from the Civil Hospital, Dera Bassi. Children marched through streets and markets of the town with placards about the precautions that could be taken to prevent breeding of mosquitoes that spread diseases such as dengue and malaria. The day saw students and teachers of the school participating enthusiastically and joining hands against the terror of dengue.
Mohinder Singh, Senior Medical Officer, Civil Hospital, Dera Bassi, acquainted the students and teachers with symptoms, preventive and remedial measures of dengue, thereby encouraging the students to spread awareness about the disease among the masses.
Prominent citizens, including Shiv Kumar, SDM, Dera Bassi, Bhupinder Saini, president, Municipal Council, and Neelam Bhardwaj, CMO, Mohali, were present on the occasion. The rally ended with the participants taking a vow to keep their surroundings clean and prevent the breeding of mosquitoes.