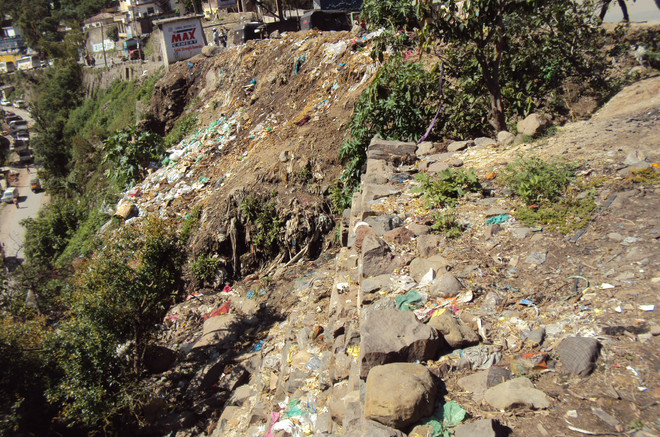 RK Kichlu
Ramban, May 31
Ramban presents a dirty and stinking picture to every passerby as there are heaps of garbage beside the highway, link roads and lanes and in nullahs passing through the town.
"The stink, dust and sight of garbage distracts any person from standing any longer in the picturesque hill town. The dirtiest area is the bus stand and its surroundings where the potholed highway has aggravated the squalor. One cannot stand the stink at autorickshaw stand," said Amit Gupta.
The piles of garbage are seen along the highway on the rear of the autorickshaw stand, which is being used as an open toilet or urinal. A damaged urinal put up by the municipal committee is one of the sources of nauseating stink.
"The garbage near the cafeteria turn and in front of the gate of the Chief Education Officer's office is piling up and is hardly cleared. Ashri nullah, passing through the town, is filled with household garbage. As it has no outlet, the garbage is strewn in the bus stand area during the rain. The garbage heaps are the main breeding grounds for mosquitoes, which are a threat to the health of residents," said Purshotam Raju.
The issue of lack of sanitation in the Kowbagh area, housing several offices and residences of senior officers, was raised by Ramban SSP Randeep Kumar in the meeting for the Amarnath yatra arrangements before Deputy Commissioner SFAS Bukhari and other officers on May 27.
"There is no dearth of funds, but acute paucity of staff is the problem. There are only 15 sweepers for the entire town. There is no works supervisor, sanitary inspector, senior assistant or secretary," said Zubeda Parveen, executive officer, municipal committee.
Top News
External Affairs Minister asks UN member states not to allow...
CM says instead of SYL canal, the project should be now be c...
Khattar points out that surplus water from rivers such as Ra...
Challenges the levy of 28 per cent GST retrospectively on be...
'Today, I am quiet because Attorney General has sought a ver...