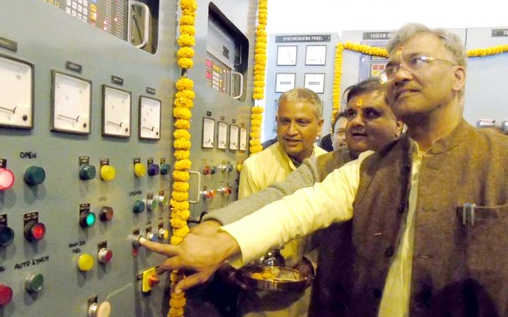 Tribune News Service
Dehradun, March 23
Chief Minister Trivendra Singh Rawat on Friday inaugurated the renovated 3,000 kilowatts Urgam Hydro Power Project built by Uttarakhand Jal Vidyut Nigam (UJVN) on Kalpganga river in Helang Valley (Chamoli).
He said that the project on Kalpganga river would prove to be a milestone for development of this mountainous region. He further said that the power generated from this project would enhance electricity supply in 25 villages of the neighboring areas like Bharki, Bheta, Urgam, Chai-Thai, Salana, Joshimath and Badganv and also give employment to local unemployed youth.
He said that small hydro power projects in the state have huge potential and water power can be fully utilized from small hydropower projects for electricity generation.
Social worker Laxman Negi presented the emblem of Kalpeshwar Mahadev temple to the cm.
Urgam Hydro Power Project was damaged in the 2013 natural calamity. Uttarakhand State Government provided Rs 13.05 crore for the reconstruction of the damaged project. The power project had stopped producing electricity due to floods of 2013 which had damaged head curves, power duct, power house, TRC and about 100 meters of water canal.
The Chief Minister also visited the hospital operated by Swami Vivekanand Charitable Trust in Pipalkoti on Friday. He said this hospital would be beneficial in providing health facilities to pilgrims during Chardham Yatra and also to local people.
Badrinath MLA Mahendra Bhatt, Power Secretary Radhika Jha, Joshimath Municipality president Rohini Rawat, General Manager of Hydropower Corporation Ajay Patel were also present at the inauguration.
Top News
Harried passengers take to social media to vent their ire at...
Lapid had stirred a massive controversy by terming Vivek Agn...
Final turnout to be higher as voting process continued at po...
DigiYatra will provide seamless entry and embarkation proces...
His song 'Mahakaal' removed from YouTube after 19 hours