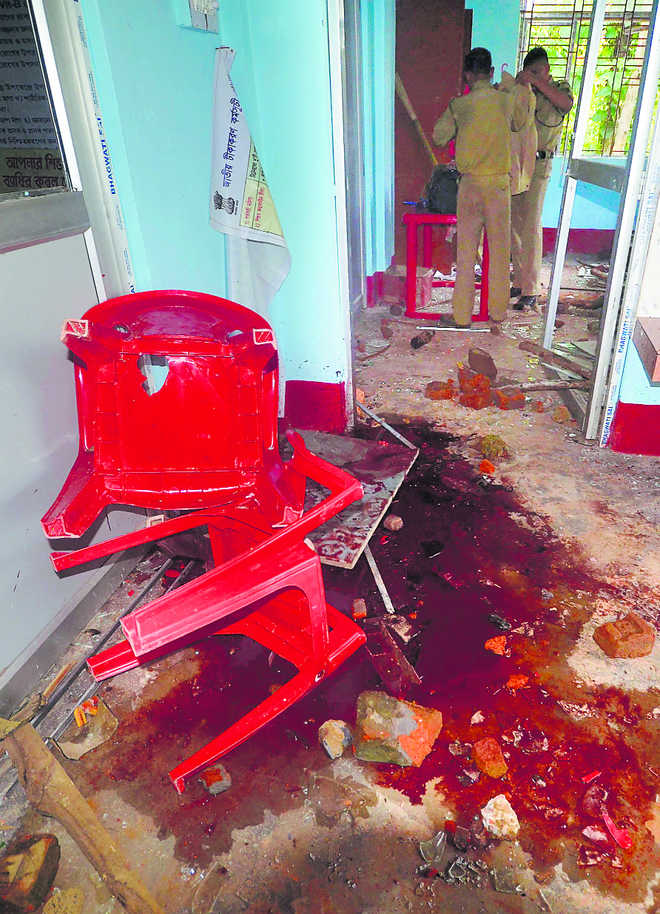 Aditi Tandon in New Delhi
The July 1 mob killings of five innocent men believed to be child kidnappers in Maharashtra's Dhule have sent shock waves across the country for the sheer savagery of the crime.
A mob of 3,000 plus men decided that the five nomads roaming the streets of Dhule's Rainpada were out to kidnap local children and harvest their organs. Crowd mobilisation took seconds as fake WhatsApp videos were already in circulating. One video spoke of a burqa-clad gang having "kidnapped" a child in Sakri, 40 km from Dhule. Another showed bodies of children, a voiceover claimed that every child's organs have been removed. A police probe later has found both WhatsApp forwards to be fake; one has been traced to Pakistan and the other to Syria. The video that originated from Pakistan was originally an advertisement for child safety made by a Karachi firm Spectrum Y&R (Young and Rubicam), for a charity called Roshni Helpline that works to prevent child abduction in Pakistan. The doctored version on Indian social media shows two bikers pick up a child and speed off. The original shows the bike returning and the men dropping the child back. Then they unfurl a banner: "It takes only a moment to kidnap a child from Karachi." The doctored video was edited and made to look the exact opposite of the original.
But angry mobs have no time for truth. Fake viral WhatsApp messages have now provoked a new spate of lynchings across India with 29 suspected child lifters done to death by violent mobs. As recently as June 28 last month, a Tripura Government employee Sukanta Chakrabarty, hired to quell child-lifting rumours in the area, was killed by a mob at Kalachhara in south Tripura. Locals suspected him to be a child kidnapper due to social media messages about a kidnapper. Earlier on June 10, two young men, Nilotpal Das and Abhijeet Nath, were beaten to death for similar reasons in Assam's Karbi Anglong by a crowd.
The list of victims is long and growing. In recent months child abduction rumours on WhatsApp have led mobs to kill seven in Maharashtra and Jharkhand each, four in Tripura, two each in Assam, Andhra Pradesh, Bengal and Telangana and one each in Gujarat, Chhattisgarh and Uttar Pradesh.
This explains the Centre's July 5 advisory to states and UTs to "take measures to prevent incidents of mob lynching fuelled by rumours of child lifting circulating on social media." The Ministry of Home Affairs had, in August 2016, issued a similar advisory on cow vigilantism directing states to adopt "zero tolerance towards those taking the law into their hands ".
No punishment has, however, been announced or witnessed so far. The first-ever conviction in mob lynching over cow smuggling happened this March when a fast-track court in Jharkhand convicted 11 of the 12 accused of killing 55-year-old Alimuddin Ansari on June 29, 2017, on the suspicion of cow smuggling. They were handed life sentences but the Jharkhand High Court on July 2 granted bail to eight of the 11.
"The state and the police are deliberately not recording hate crimes. They offer a special immunity to those targeting the minorities. Perpetrators shoot triumphant videos of the horrifying acts and political rulers maintain a cynical silence. The police fails to record mob lynchings for what they are – cold blooded murders. The deaths are filed under routine IPC sections with victims labelled as accused in most cases. In Hapur district of UP, the police file recorded the lynching of Qasim, as death due to road rage. The crime data must reflect the deadly motives of the accused," says Harsh Mander, who launched a unique journey called Karwaan-e-Mohabbat last year to spread peace in areas that had witnessed mob violence.
Mandher and his friends visited families of mob victims who were killed over suspicions of carrying beef or smuggling cows. The victims included Pehlu Khan (55) killed by a mob in Alwar on April 1, 2017; Junaid (16) killed on a train near Okhla over a spat; Mohd Afarzul (45) killed in Rajasthan in the name of "love jehad" and Ankit Saxena (23) from West Delhi, murdered by his Muslim girlfriend's family.
The data collection on lynching remains a challenge. The National Crime Records Bureau (NCRB) doesn't collect this data. "Lynching is not defined in the IPC. The NCRB can only include in its performa, crimes defined in the IPC Sections. Lynching deaths are currently recorded under the IPC sections of murders and attempts to murder," says a source in the NCRB.
Independent data journalism initiative IndiaSpend has, however, maintained a hate crime tracker since 2014 and puts incidents in this category at 85, deaths at 33 and victims at 285. In the listed cases 55 per cent of the victims of hate crimes are Muslims followed by 21 pc unknown, 12 pc Dalits, 10 pc Hindus, 2 pc tribals and one per cent Sikhs and Christians each.
With evidence suggesting that social media fuelled these crimes, the government recently put WhatsApp on notice asking it for greater accountability. WhatsApp has assured the government of new features, including one that will enable differentiation of the original message from a forward, and has pledged to step up awareness activities on the safe use of technology.
But IT experts shrug off these responses as "piecemeal". Cyber crime law specialist Pawan Duggal accuses the government of being overtly soft towards Facebook and WhatsApp. "Section 79 of the IT Act mandates intermediaries like WhatsApp and Facebook to exercise due diligence. WhatsApp has not been able to show how it is compliant with the Indian law. The government can initiate criminal prosecution against WhatsApp or penalise it, make it tough for them to access Indian networks," notes Duggal. India leads WhatsApp's use in the world with 200 million active monthly users. That explains the potential danger from fake news circulating on the medium which now says it will hold workshops with law enforcers to help them deal with fake news and messaging.
That said, the rising trend of mob lynching in India reflects poorly on the state of law enforcement.
Nimesh Desai, a leading mental health specialist based in Delhi, says, "Current trends point to three things — one, mass hysteria earlier seen in closed groups has now become disseminated. Two, hysteria multiplies manifold when the issue is as sensitive as child protection. Three, the hysteria is reflective of people's frustration with the legal system." Desai suggests better legal control of the social media.
Getting down to brass tacks though, only people can prevent the dehumanisation of society. Families of mob victims have shown how love can prevail over hate. Yashpal Saxena, father of Ankit Saxena killed for loving a Muslim girl, hosted Iftar to send a message of peace.
Far off in Bengal's Asansol, the imam of a local mosque, Moulana Imdadul Rashidi refused to allow his son, a victim of communal riot, to become a prop in the hands of politicians. It's another matter that both these fathers are awaiting justice for the murder of their sons at the hands of the mob.
That's a law enforcement issue, and the real issue.
---
Reduce unemployment
Joblessness is one of the reasons behind this murderous rage. Children spend a fortune on education and the degree does not get them anywhere. This is a potential recipe for disaster. As for me, I feel abandoned by the system. Five months have passed since Ankit was killed. The Delhi CM Arvind Kejriwal visited me twice at that time, promised me legal and financial help. The case comes up on July 17 in Tees Hazari courts and I don't even have a lawyer. The CM doesn't answer my calls anymore. No one is willing to help. All I want is a good lawyer so that I can get justice for Ankit. I'm already despairing. — Yashpal Saxena, father of Ankit killed in street violence
---
The violence we have seen over the past four years follows a trend. Mob lynching is a political tool being used to polarise society. Law enforcement has also become part and parcel of the attacks. Police officers who act fairly are transferred. The idea is to create a fear psychosis by unleashing the mobs on a certain community. This will get worse as 2019 draws closer. — Activist Shabnam Hashmi mob killed her brother Safdar Hashmi in Ghaziabad in June 1989
---
Mob lynching poses major challenges for law enforcement agencies because the mob sees no reason and believes in the culpability of their target. The challenge has to be met by quelling rumours in time. Any service provider must have in-built checks to prevent potentially harmful content from getting circulated. Facebook Inc has to build these tools for safety. — DCP Madhur Verma, Spokesperson, Delhi Police
Top News
Gandhi was convicted on March 23 in the defamation case for ...
Situation in Sasaram and Biharsharif normal, say police
The Kabul-born Durani played 29 Tests for India
In 2018, when Afghanistan played its first Test in Bengaluru...
The untimely rains are expected to continue for a few more d...