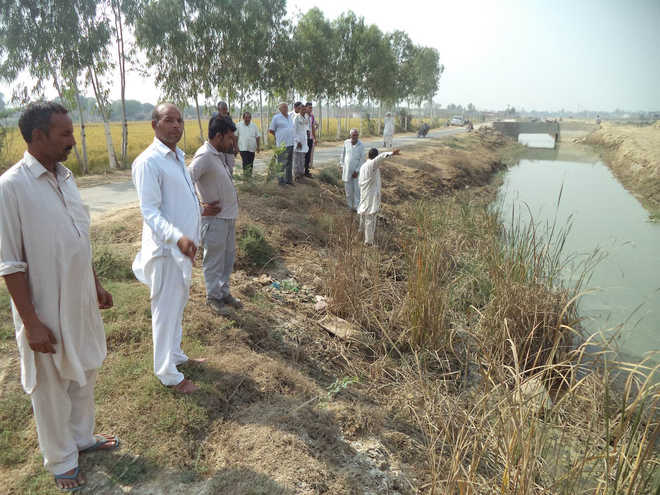 Sanjeev Singh Bariana
Tribune News Service
Chandigarh, November 1
Non-release of funds for Centre-approved project for the relining of "severely damaged" more than 140-km parallel running Rajasthan Feeder and Sirhind Feeder canals has led to reduced water flow, acute seepage and waterlogging at several places along the entire length.
Sources said the Centre had approved the project of relining of the canals which had "outlived their lives" at an estimated cost of Rs 1,440 crore.
After working out design in consultation with the IIT, Chennai, a revised estimate of Rs 2,125 crore was sent in 2014.
"The Ministry of Water Resources is waiting for an approval by the Prime Minister Office (PMO) before a formal sanction by the Cabinet," a source said.
Originating from Harike, at the confluence of the Satluj and Beas rivers, both water channels pass through Ferozepur and Faridkot districts before a feeder enters Rajasthan. Farmers at the tail end of the canals, particularly in Abohar and Fazilka areas, are facing acute shortage of water supply.
Congress MLA Sunil Jakhar had led an agitation earlier this year highlighting the problems being faced by farmers at the tail end of the Sirhind canal which was witnessing fewer water supplies largely due to silting.
Chief Minister Parkash Singh Badal had also told officials of the Irrigation Department to ensure water at the tail-ends of canals in Fazilka and Muktsar.
Talking to The Tribune, Kahan Singh Pannu, Managing Director, Punjab Agro, said: "The state was first asked to try the geomembrane underwater technology with a geotextile as filter. The process involving incorporating a sheet in canal lining to prevent seepage was rejected after three years".
He said the department subsequently worked out a design with traditional specifications in consultation with the IIT, Chennai. The Central Water Commission (CWC) and the MOWR have already granted technical and investment sanction to the revised project.
A meeting of the MOWR was held in New Delhi on October 6 with officials and engineers of both the states where it was decided that the project will be taken up as per the approved design.
The Ministry of Water Resources was waiting for an approval from the PMO before a formal sanction by the Cabinet, the sources added.
Top News
2 others eject safely I Debris strewn across miles I Sukhoi,...
Visit comes ahead of NSA chief's US tour
Union Ministers call it part of efforts to de-colonise, indi...