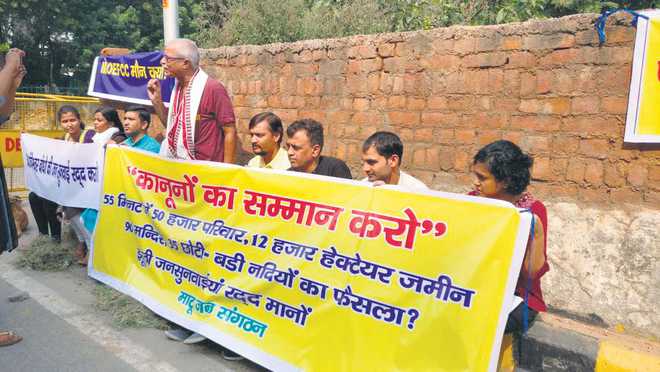 Jotirmay Thapliyal
Tribune News Service
Dehradun, Oct 26
Even as efforts are on to speedily move towards construction of proposed Indo -Nepal joint venture — Pancheshwar Multipurpose Project— resentment against the project continues to grow on ground in Uttarakhand.
While both the Centre and Uttarakhand governments are keenly pursuing the Pancheshwar project, those opposing the project in Uttarakhand argue that there was no point in uprooting people in mass scale when the villagers affected by the construction of hydro power projects at Tehri, Vishnugad Pipalkoti, Asi Ganga and Vishnuprayag, were still struggling to get land-based rehabilitation and agitating for basic facilities.
Anti-dam crusader Vimal Bhai, who has been frequently voicing the concerns of power project affected inhabitants of Uttarakhand argues that the Pancheshwar project will again prove catastrophic for the affected as both the state and central governments are busy more with paper works than working on ground when it comes to addressing the grievances of those directly affected due to the project.
Vimal Bhai questions credibility of the Environment Impact Assessment Committee meeting on the Pancheshwar project held recently asserting that it was for the first time people had to stage a mass agitation at the venue of the meeting for a river valley project.
"It is equally strange that the EIA Committee meeting completed the assessment of the pacheshwar project within less than an hour. When the project that costs Rs 40,000 crore will lead to submergence of 12,000 hectare land in three districts of Uttarkhand affecting about 40,000 families", he observed.
Harshit Nautiyal from the Uttarakhand Ekta Manch too contends that Pancheshwar dam was yet another attack on the people of Uttarakhand and was being carried out against the wishes of a majority of people. He said these rampant hydro projects had only come as a curse for Uttarakhand and only added to the woes of its inhabitants rather than adding any improvement to their living. The anti-Pancheshwar dam protesters have already held series of protests in Kumaon hills where the dam is proposed on the Indian side and also in Delhi.It is noteworthy that the 5040 mega watt Pancheshwar project is a joint venture of India and Nepal and is proposed on Mahakali river that forms the international boundary between the two countries. Uttarakhand's Pithoragarh, Champawat and Almora are the three districts to be affected on Indian side.