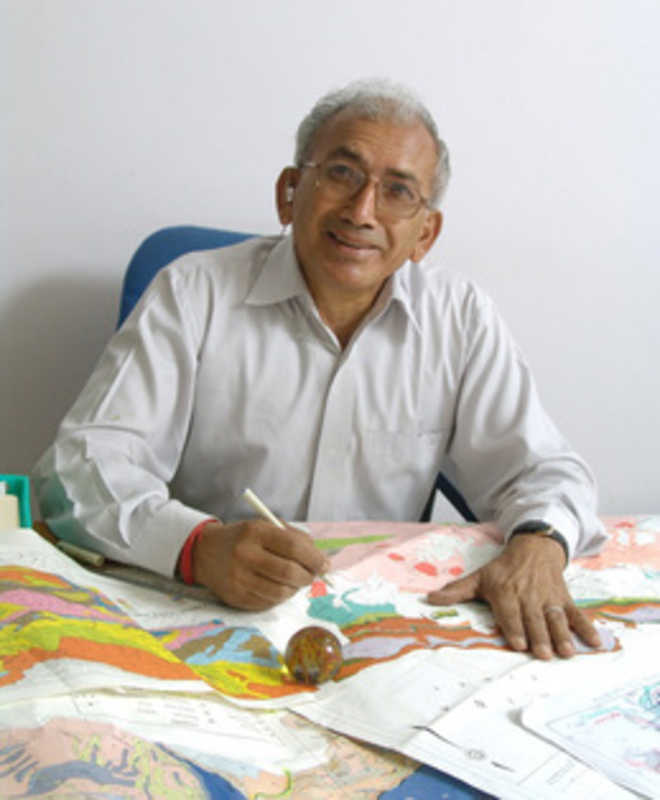 BD Kasniyal
Pithoragarh, January 28
Residents of the district, especially in Pithoragarh town, celebrated award of Padma Bhushan to Dr Kharag Singh Valdiya, a known geologist, by the President of India this year. Dr Valdiya not only spent his childhood in Pithoragarh but had also been involved in social activites in the district.
He was awarded Padma Shri in 2007 for his contribution to the sphere of geodynamics.
Dr Valdiya was born in a town in Myanmar on March 2, 1937. He later shifted to his home town of Pithoragarh. He had his primary education in local schools and did M.Sc in geology from Lucknow University. Later he started teaching in the university in 1957. Dr Valdiya was awarded the Fulbright fellowship at John Hopkins University, Baltimore, USA, in 1965-66. He is an expert in geology with specialisation in tectonics, including active faults, and environmental geology with special reference to natural hazards and geo hydrology of natural springs.
"We have decided to honour Dr Valdiya whenever he visits the district. He had been involved with a science outreach programme under which he had educated youths in e-science and e-education in rural areas," said Dr Ashok Pant, principal of a local intermediate college.
Valdiya, who was awarded the Shanti Swaroop Award for his contribution to science in 1976, has more than 12 national and international awards to his credit, including the GM Modi award for Science and Environment for year 2012. He has written several books as well. "Though he is quite old now, his indomitable spirit in research in under earth activities has not faded. He is still researching in western ghats and Shahyadri hills as a honourary professor of geodynamics at Jawaharlal Nehru Centre for Advanced Scientific Research in Bangalore," said Pant.