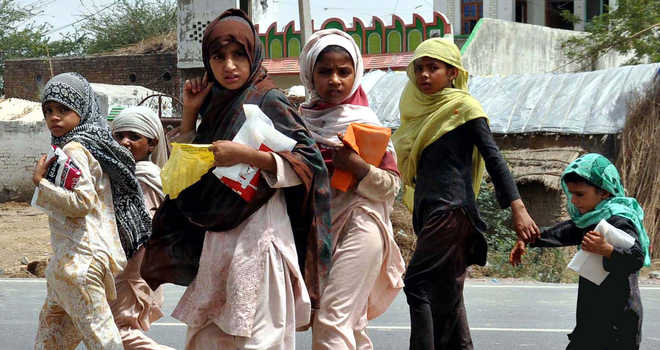 Sumedha Sharma
As you enter the confines of the Rozka Meo village in Mewat, it appears to be just another infrastructure and development-starved village in Haryana. While groups of men gurgling the hookah are busy discussing state politics, we look around for the success signs of 'Hi-tech Under Burkha', a humble revolution, which is taking these Meo backwaters by storm. As we go around enquiring from one burkha-clad woman taking her buffalo back home to another sitting in a shop, a 17-year-old girl walks up to us and offers to take us to their 'action centre'.
"This is a revolution," says Nazneen as she flashes her recently bought Micromax smartphone. Sensing our surprise, she explains, "For you, a smartphone might be as common as an item on your grocery list but it is an achievement for women here. Leave aside owning these, even access to a smartphone or internet connection is considered a taboo for the girls, especially for the unmarried ones. Today 10 of us have got smartphones as Eid gifts."
Till about two months back, she was among the girls who had to discontinue their studies after Class X since there's no senior secondary school in their village. She would spend her days learning housework or stitching till she was introduced to a laptop, which is a taboo here.
"We have always been told that internet is a monster that can bring bad name to a girl. For us, it meant a world of embarrassing pictures, videos or trappers. There are two computers with internet at a photocopy shop in our village but a girl going there, unaccompanied by a male relative, is considered disgraceful. Our brothers have smartphones but we can only use these to take calls. For me, all this changed when I chose the laptop over the sewing machine," says Shazia as she joins us at the local sewing centre. While you expect to hear the sounds of sewing machines, it is the consistent clicking of keyboards that introduces you to the initiative launched to encourage women from the community to learn computers and join social networking platforms. The move has been spearheaded by former sarpanch of Bibipur Sunil Jaglan, who shot into limelight with his 'Selfie with daughter' campaign.
"It has not been an easy task. We placed computers next to the sewing machines to generate curiosity but the women there were too scared to even touch these. Thereafter we started convincing people to let their daughters learn computers. After months of being shooed away, we were able to get on board two local women Vaseema and Shabnam, who helped girls understand the idea. Thereafter, many women have started learning computers. Now many of them use their social media accounts to voice concerns about women issues to various ministries," says Jaglan.
"Facebook is still a strict no for girls in villages. Ignorance of internet is a character certificate for the girls here. No matter how religious or homely a girl is, if she has a Facebook account, she's not considered marriage material," says Vaseema as she helps girls check Twitter handle of the Railways.
"When our relatives from other parts of the country would talk about sharing information and pictures on WhatsApp, or even discuss various household hacks they learnt on Facebook, we would be mesmerised. When we first saw a laptop in our stitching centre, we were excited but apprehensive. However, after spending an hour searching Google for all that we could think of, and that too in Hindi, we decided to support the idea," adds Shabnam.
The duo started approaching young girls like Naazneen. The initiative started with the first step of getting social media accounts for these women, and then graduated to introducing them to several online education or discussion portals. This was followed by the use of smartphones.
"Coming here for half an hour of internet surfing was fine but when one of the women shared how at night she wanted to prepare a special dish for dinner and wished that she could use internet at the silai kendra, we decided to give them 24-hour internet access. Smartphones were the answer. This was tough as everyone felt that phones would be a corrupting device. Majority of men thought women would use these phones only for clicking selfies. It took us two months to make them realise how they could deal with day-to-day issues with the magic stick of apps on these phones. Today 10 girls have their own phones. It is a relatively small number but a big boost for us," adds Jaglan. The team now goes home to home making women download apps pertaining to health, government services, police department, budget calculators, online shopping, and even answering religious queries.
"One of my friends had to fight with her family to get a personal smartphone. Some members of her family even stopped talking to her. Once she got a smartphone, she downloaded women's helpline app on her phone. Her sister, who is married in another village, would get beaten up by her husband everyday but she didn't have the courage to complain about this at the local police station. Using one of the apps, my friend made her sister speak to Mewat SP Naazneen Bhasin. A matter which could not be solved for five years merely took 10 minutes to be resolved. Since this incident, her family spares no chance to show off her ability to use the smartphone," says Naazneen.
Internet has made everyday lives easy for some but for many, it has given them a window to the world and a flight to their dreams.
"I had to leave school in Class VIII after I was married off. I would read newspapers and always tried to cope up with the changing times but it was only after I got involved in the programme that I once again had the courage to dream. The first thing I read was about Malala Yousafzai. I even ordered a translated version of her autobiography. The book made me realise if she could have the courage to change the world in spite of threats from the Taliban, I could at least do my graduation through correspondence in Mewat," says Asina, one of the participants.
Top Stories