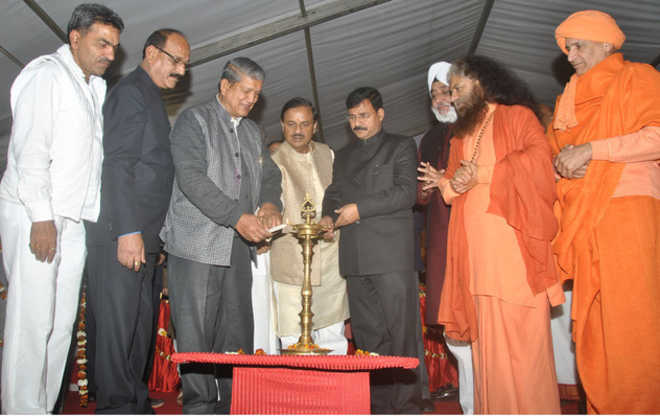 Tribune News Service
Dehradun, March 1
Union Tourism and Civil Aviation Minister Mahesh Sharma today pledged to uphold Rishikesh's importance as yoga capital of the country.
Sharma was addressing a gathering after inaugurating the International Yoga Festival here today. He said identity of Rishikesh as yoga capital of the country would be maintained at all costs. Sharma said Uttarakhand kept immense possibility in tourism and called for strengthening of the civil aviation sector.
Reacting to Chief Minister Harish Rawat's request for upgrading Jollygrant Airport in Dehradun, the Union Civil Aviation Minister did not rule out the possibility of developing facilities of parking and cargo at the airport taking into account the high traffic volume at Delhi airport.
He admitted that weather challenges were certainly a constraint in speedy completion of the reconstruction activities at Kedarnath and asserted that a three-year time had been kept to complete the reconstruction works at Kedarnath, which he said can be extended to four years.
The Chief Minister said India had been known as a land of yoga. "Yoga teachers from India have made a name for themselves all over the globe," he said. He said Rishikesh which was also identified as yoga capital of the country and can be further developed if the Union government started a yoga research institute here.
Harish Rawat reminded that the state government had identified 1,000 schools where part-time yoga teachers would be appointed. He said even in private sector, if a yoga dhyan kendra was opened by an individual, the government would pay 75 per cent of the salary to the teacher. State Tourism Minister Dinesh Dhanai said, 350 foreign delegates would participate in the week-long International Yoga Festival beginning today. Parmarth Niketan's Chidanand Muni, MLA Subodh Uniyal and Tourism Secretary Dr Umakant Panwar were prominent present on the occasion.
Top Stories