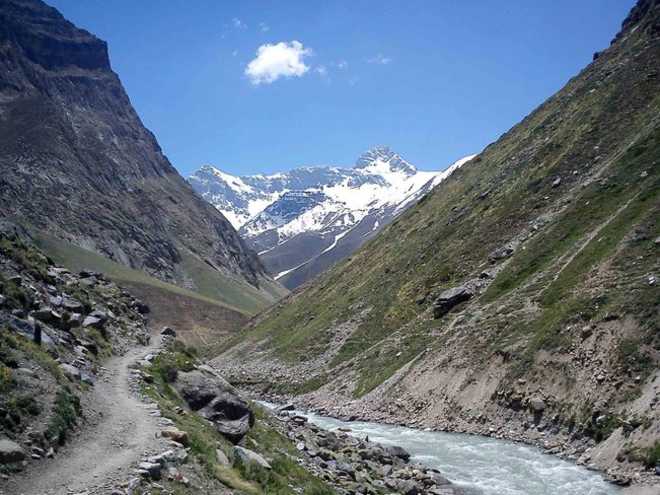 Kuldeep Chauhan
Tribune News Service
Shimla, January 8
The Ministry of Home Affairs has sanctioned Rs 11 crore to build 21-km Chitkul-Dumpti border road leading to the last forward post manned by the Indo-Tibetan Border Police (ITBP) in Kinnaur district.
Similarly, the BRO has already constructed three major links from Powari-Pooh-Kaurik national highway to the India-China border. These four border roads will increase the mobility of Indian troops in the border areas.
According to intelligence inputs, the Chinese border is about 60 km from the ITBP post as the entire region beyond the post is dominated by the craggy and steep snowy Himalayan peaks.
The 1962 war with China had underscored an urgent need for increasing the mobility of the troops along the border in Kinnaur district after the Chinese had occupied the Tibet after the flight of the Dalai Lama to India in 1959, they revealed.
The border road project is being carried out by the state Public Works Department (PWD). The ITBP force guards the border with the China in the state and has to reach the post on foot, sources revealed.
On the other hand, the Border Roads Organistation (BRO), which oversees the Powari-Pooh-Kaurik national highway in Kinnaur and Manali-Leh national highway in Lahaul-Spiti and the Ladakh sector, has already constructed three border link roads in Kinnaur district.
These three roads include 5 km Chupam-Shipkila, 20 km Kaurik-Pong and 7 km Kaurik-Lepacha roads. The link roads have increased the mobility of the Army troops and ITBP forces along the border and 21 km Chitkul-Dumpti will further aid the movement of troop from Sangla, said engineers.
The Chitkul road will link the strategic points of Rani Kundi, Nagesti and other places, revealed engineers. Two bridges have been constructed to increase the mobility in the no-man's land, they added.
The 2 km link road has been constructed uphill from Chitkul, the last tribal village in the Sangla valley, said PWD Chief Engineer (South), Dr MS Thakur.
Top News
Odisha government has issued helpline 06782-262286. The rail...
At least 50 people died and 350 were injured in a three-way ...
12837 Howrah-Puri Superfast Express, 12863 Howrah-Bengaluru ...
WFI chief demanded sexual favours in lieu of supplements and...
Said agitation will be intensified by holding panchayats acr...