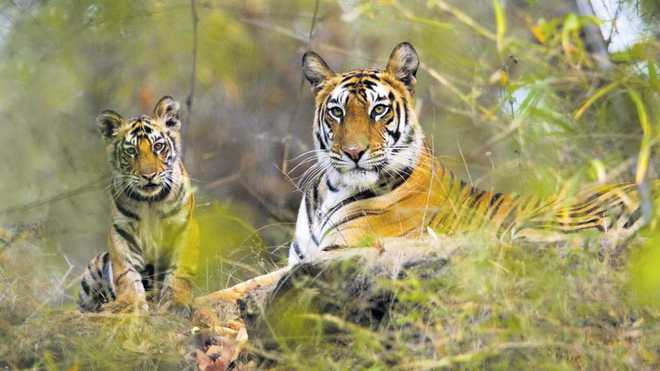 Jotirmay Thapliyal
Tribune News Service
Dehradun, June 14
The National Tiger Conservation Authority (NTCA) has approved Rs 3.40 crore Tiger Relocation Plan for the Rajaji Tiger Reserve. The plan was prepared by the Wildlife Institute of India in 2010.
Five tigers are to be relocated from the Jim Corbett Tiger Reserve and its territorial forest divisions to the western sector of the Rajaji Tiger Reserve. So far tigers have been relocated in Rajasthan and Madhya Pradesh. Uttarakhand will be the third state in the country to relocate tigers. Tigers were first relocated at Sariska in Rajasthan in 2008.
A Wildlife Institute of India study in 2010 — Population Viability of Tiger in their North Western Range Limit, Terai Arc Landscape — had suggested tiger translocation exercise to revive tiger population in the western sector of the Rajaji National Park. Chief Wildlife Warden DVS Khati said that NTCA had approved Rs 3.40 crore for relocation of five tigers – three female and two male tigers – to western sector of the Rajaji Tiger reserve. He asserted that the wildlife authorities were fully prepared to conduct the exercise. Khati also gave a detailed presentation before the NTCA on the need of tiger relocation.
Forest personnel underwent training for the relocation exercise, with the assistance of WWF, a wildlife conservation NGO, at Panna Tiger Reserve in Madhya Pradesh.
Top News
22-year-old Robert E Crimo III from the area is the shooting...
Congress has lodged an FIR against him by for peddling a fak...
Says wants to develop friendly policing in the state
Databases contain information like name, address, birthplace...
Police said Sirsa shot Moosewala at least six times and was ...