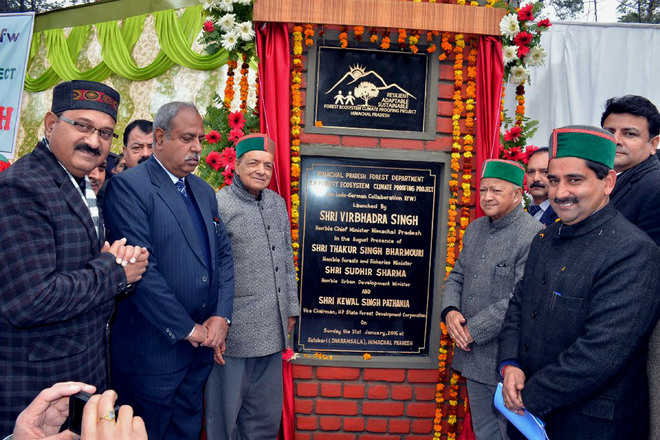 Tribune News Service
Dharamsala, January 31
Chief Minister Virbhadra Singh today launched the Rs 310 crore Himachal Pradesh Forest Ecosystem Climate Proofing project at Satobari.
The project aims at minimising and mitigating the effects of climate change. It will also enhance the adaptive capacity of local communities.
It is being launched with German collaboration and funding by KfW bank.
To be implemented for six years in eight forest divisions of Chamba and Kangra districts through local registered societies, the project will provide direct and indirect employment to 1.5 lakh people of 600 cluster villages.
The societies making efforts to make the project a success will be honoured.
"A sum of Rs 3.33 lakh will be deposited in the bank account of each registered society," the CM said.
Virbhadra said the project would help enhance fodder production of forests by rehabilitation of areas infested with lantana in almost 15,000 hectares in both the districts.
He said efforts would be to plant more broad-leaved trees catering to the fuel and fodder demands of rural population.
The CM said under the project, bamboo forests would be improved in 1,000 hectares, besides reviving the traditional water springs and other natural water resources in the catchment areas of around 150 natural rivulets.
He said there were authentic indications that climate change was going to accelerate the degradation of forests, increasing the vulnerability of forest eco-system and rural population unless adaptive measures were taken. The government had banned the felling of trees before 1982.
There was a time when 95,000 trees were felled annually for making apple cartons. The government made it mandatory to use corrugated boxes. He said initially he faced opposition, but with the passage of time, the people started using the boxes.
He said the government had set up carton factory to prepare apple boxes in Gumma, Shimla, but the BJP government sold the factory at a cheaper price.
The CM also announced expansion of the forest rest house in Satobari and beautification of Dal Lake.
Forest Minister Thakur Singh Bharmouri said the project would regenerate the forest areas besides providing employment to the rural populace.
Vice-Chairman, State Forest Corporation, Kewal Singh Pathania, thanked the Chief Minister for opening the SDM office at Shahpur.
Urban Development Minister, Sudhir Sharma, Chief Parliamentary Secretary, Neeraj Bharti, MLA Sanjay Rattan, chairman, HP State Education Board, Balbir Tegta were also present.
Top News
Asks not to spread fake news amid reports of her distancing ...
'US-India partnership is a cornerstone for a free and open I...
Rehana Fathima, a woman's right activist, was facing charges...
On August 3, 1991, Congress leader and brother of former MLA...
Injured admitted to hospital in Imphal where their condition...