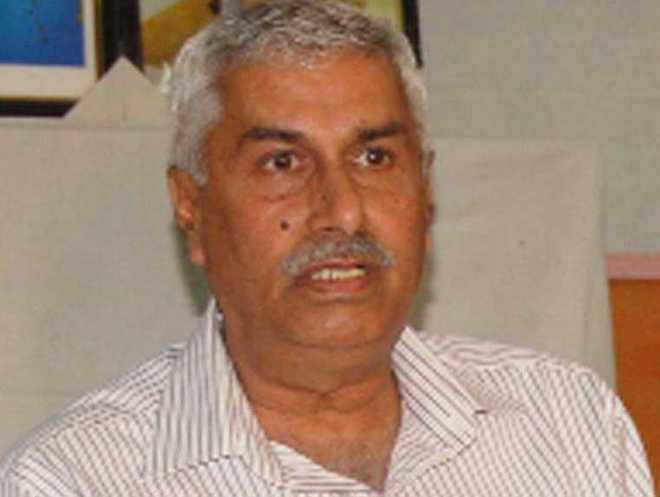 Nikhil Bhardwaj
Tribune News Service
Jalandhar, August 6
Rashtriya Swayamsewak Sangh (RSS) Prant Seh-Sanchalak (vice-president) Brig Jagdish Gagneja (retd) was shot at in a busy Jyoti Chowk market here on Saturday evening.
He was rushed to a private hospital in a critical condition with bullet injuries in his abdomen. Gagneja has sustained three bullet injuries.
(Follow The Tribune on Facebook; and Twitter @thetribunechd)
Gagneja along with his wife Sudesh had gone to market for shopping in his car and was returning home when the attack occurred. The incident reportedly took place at 8.15 pm.
As per an eyewitness, Parmod Kanojia, he was standing on a roof when Gagneja stopped his car near his house to answer nature's call. Two motorcycle-borne assailants, with their faces covered, stopped their Platina bike near him.
As Gagneja was about ask motive of stopping their bike close to him, one of the men fired three shots from his weapon and the two sped away.
Gagneja received three gunshots, including two in the abdomen. Due to darkness, he could not see the registration number of the bike.
"I immediately raised an alarm and called the nearby shopkeepers. We rushed Gagneja to Satyam hospital from where doctors referred him to Patel hospital," the eyewitness said.
He said fleeing assailants also fired two shots in the air to intimidate people who were witness to the attack.
The police have recovered three empty cartridges from the spot.
Gagneja's condition is stated to be critical and a surgery is being performed. Police Commissioner Arpit Shukla has reached hospital and so have several BJP and RSS leaders.
Gagneja is a prominent leader of RSS in Punjab and lives in Deep Nagar, Jalandhar Cantonment. He has two daughters.