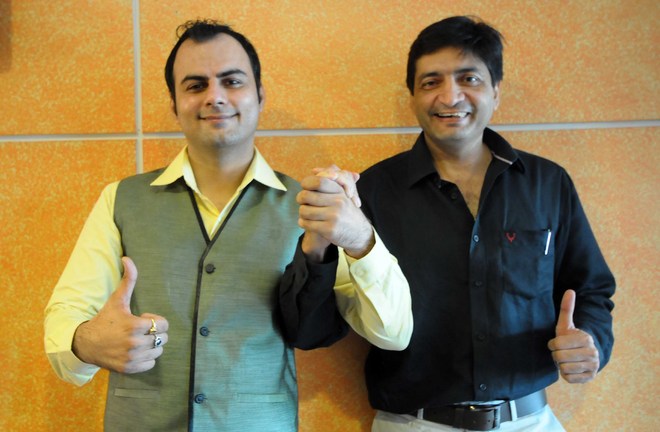 Amarjot Kaur
This one is for the sake of those troublesome times when intrusion in personal space is defined on a whole new standard when it comes to tech stalkers, who may want to hack into your accounts, and try all ways and means to tick sanity off your minds. While many of you may still be trying to keep pace with technology, it's always better to stay one step ahead, especially when it comes to your security by protecting your data. How? Well, as the two ardent techies Sahil Baghla and Arun Soni come up with their brand new book titled Digital Cop, they aim at equipping all their potential readers, who may want to safeguard their personal technological data, be it e-mails, Facebook account, WhatsApp, and even debit and credit cards, from hacking.
"Most of the time we receive queries about fake profiles and ATM thefts and other tech-related problems and this book is a one-stop solution for all of these issues," says Sahil. He adds that the book, which was written over a period of two years, required extensive research with budget-friendly solutions. "If you go to the market, you may get data software security packs at Rs 1000, but in our book we have mentioned data protection software starting at Rs 350. Also, we have suggested several apps that can track down hidden cameras without the use of internet. For instance, Glint," says Sahil. So, now you wouldn't have to worry about going to the changing rooms for the fear of hidden cameras!
While the writers of Digital Cop aver that safety through knowledge is their prime agenda, they share that it is also necessary these days. "I often get men and women coming to me and asking me if I could hack their spouse's data like WhatsApp. Then there is a question of ATM frauds and data leakage, especially exam questionnaires," says Arun Soni, who has already written as many as 99 books on computer education, including coding, programming, Java and C++. "Well, we did a certified ethical hacking course from EC Council, US, and the best way of being safe is to keep all your data in your PC. It is important that one keeps away from downloading apps that are not on playstore or google app store. Also, in case of your Facebook account, make sure that you don't put a full-length picture, instead use a low resolution, edited picture," says Arun. While the writers give a few tips about guarding your phones and PCs from wi-fi, they share their stance on the government's new policy on WhatsApp messages. "I feel that this has been done to track the unregistered companies with the Government and I do not think that people will agree to this policy," says Sahil. Meanwhile, their book, Digital Cop, is available on all websites, including Amazon and Flipkart, at Rs 200. Go grab your copy and stay safe!
Top News
According to the dossier, Brar arrived in Canada on August 1...
Nijjar, chief of the Khalistan Tiger Force, was shot dead by...
Canada says it wants to 'work constructively with India' reg...