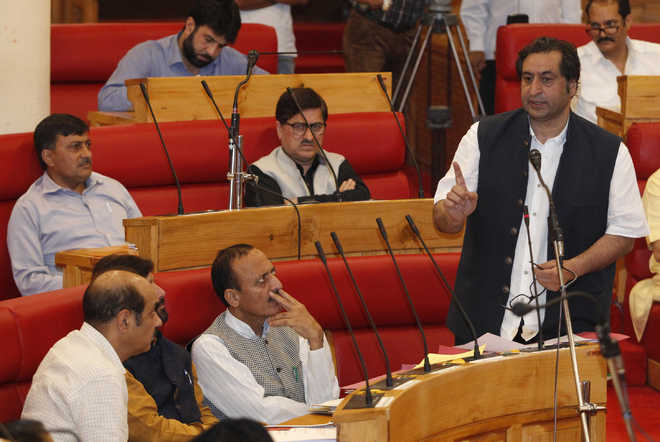 Tribune News Service
Srinagar, June 23
Saying there is a "need to merge Muslims of Kashmir into the mainstream of India", Minister for Social Welfare, ARI & Trainings and Science & Technology Sajad Gani Lone today said there was no need to establish a minority commission in the state.
"They need incentives and a healing touch as they have suffered a lot," the minister said in the Legislative Council while responding to queries of BJP legislators during Question Hour on setting up a minority commission and minority status for Hindus and Sikhs of the state.
"It is time Muslims of Kashmir are merged into the national mainstream of India," the minister asserted. He was responding to clubbed questions of MLCs Vibodh Gupta, Dharambir Singh and Charanjeet Singh.
Lone rejected the BJP legislators' demand for declaring Hindus as a minority in Jammu and Kashmir, saying declaring minorities was the domain of the Centre. The BJP members demanded that Hindus and Sikhs be granted minority status in the state.
"Such demands will add fire. Jammu has a Hindu majority and Kashmir has a Muslim majority. We cannot declare minorities at block levels and have to follow national criteria," Lone said.
The minister's rejection angered BJP legislators, who stood up from their seats and demanded that Hindus be declared as minority in J&K.
Vibodh Gupta tried to walk to the well of the House in protest. "I think that it is a conspiracy. It is a human rights violation for Hindus that despite being in a minority, they are not getting the benefits given to minorities. It is injustice," he said.
Charanjeet Singh said the PDP had promised in its election manifesto that it would give minority status to Sikhs. "But the government is silent on the issue," he said.
Earlier, in a written reply to the clubbed questions, Lone said no community had been declared a minority community by the state.
"Community-wise percentage in the state of communities declared minorities at the national level is 68.31 per cent Muslims, 1.87 per cent Sikhs, 0.28 per cent Christians, 0.9 per cent Buddhists and 0.02 per cent Jains," he said.
Top News
Sidesteps Indian concern over first arms package to Pakistan...
East Delhi District Magistrate Anil Banka says an evacuation...