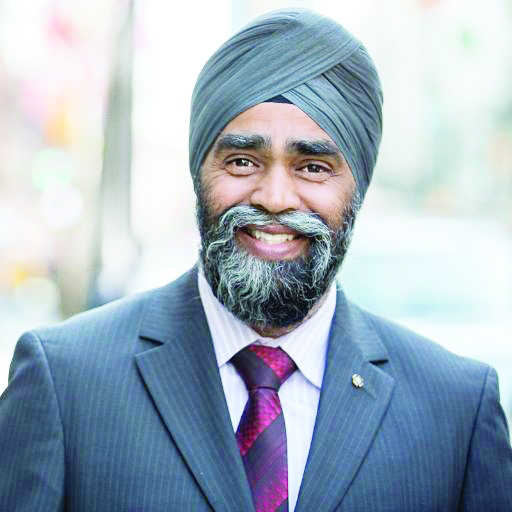 KV Prasad
Tribune News Service
New Delhi, April 15
Canadian Minister of National Defence Harjit Singh Sajjan today preferred to sidestep instead of joining issue with Punjab Chief Minister Capt Amarinder Singh over the latter's jibe describing him as a "Khalistani sympathiser" and preferring not to meet him.
---
---
In an interview conducted through email ahead of his first visit to India as a Minister (beginning April 17), Sajjan said the visit is focused on strengthening Canada and India's bilateral relationship, and deepening collaboration in a number of areas.
Preferring not to respond to Capt Amarinder's statement of not meeting him during his Punjab visit, he said, "I will continue with my visit to Punjab and remain focused on strengthening the ties that bind Canada and India so closely together. As a Sikh, I look forward to visiting Harmandar Sahib, particularly as it is right around the time of Vaisakhi. My goals for this visit are to attend productive meetings with representatives from the Government of India and the Indian military."
Calling himself a proud Canadian, he said, "I have served Canada my entire life, as a member of the Canadian Armed Forces, a member of the Vancouver Police Department, and now as an MP for Vancouver South and as Canada's Minister of National Defence. I'm focused on serving Canada and Canadians."
Ever since Capt Amarinder hit out at the former Lieutenant Colonel of Canadian army who served in Afghanistan, the Akali Dal and AAP, besides the SGPC, have criticised the statement. The CM hit back that these reactions were lacking in national pride.
On the personal front, Sajjan said he has fond memories of Punjab and returns to visit after a decade when much has changed in his life, as a father and a minister.
Top News
Major infrastructure damaged, road to vital North Sikkim lea...
Says poor largest segment in country, deserve first right on...
The Canadian allegations regarding India's involvement in th...