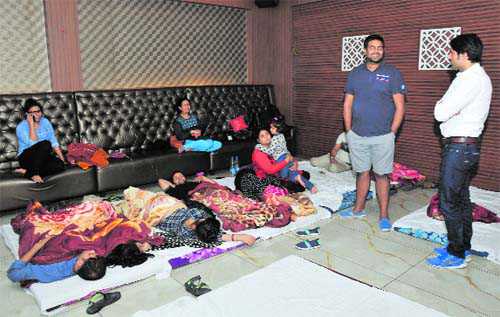 Parveen Arora
Tribune News Service
Karnal, February 22
Amid the quota turmoil that has Haryana on the edge, Jat brothers Ravinder Lather and Bhupinder Lather have come to the rescue of many stranded on the National Highway-1.
The good Samaritans have been providing free food and lodging facilities at their restaurant Neelkanth Star Dhaba for the last three days, helping those stuck on the GT Road. More than 300 commuters who have availed of their services have been all praise for the brothers.
"Their gesture in this hour of crisis is commendable. Protesters have vandalised several dhabas and restaurants on the GT Road but unmindful of the threat, the Lather brothers have been extending help to people like us," said Shimla-bound Dushyant Thakur, who was stuck for the past 24 hours.
The restaurant is in Karnal's Sector 4 and easily accessible to commuters waiting for the blockade to be lifted.
Speaking to The Tribune, Ravinder said, "Haryana is passing through a tough phase of extremism and hatred, which has mainly hit those traversing through the highways in the state... I am only putting in a small effort to serve the society. Maintaining the spirit of brotherhood should be a priority for all at present."
Ravinder urged the people to maintain peace and harmony, for which Haryana was famous. He said though Karnal had been largely peaceful so far, but they were not taking any chances and had apt security arrangements at their restaurant.
Scores of stranded people left for their destination in the morning when the GT Road was cleared, but many are still stranded, he said.
"The Jats must understand that it's wrong to damage property, be it government or private. While the government builds it through the taxes we pay, private properties are built through lifetime savings," said Bhupinder.
Top News
Reserve Bank projects GDP growth at 6.4 pc for 2023-24
The bench was told by Solicitor General Tushar Mehta, appear...
US officials have briefed its friends and allies including I...
The incident takes place during the intervening night of Feb...
Tarikjot Singh was accused of abducting Jasmeen Kaur, 21, an...