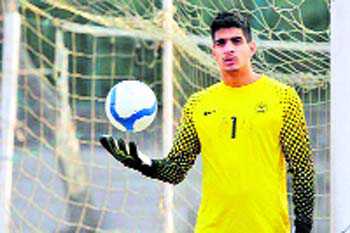 editorial@tribune.com
Deepankar Sharda
Tribune News Service
Chandigarh, April 26
Gurpreet Singh Sandhu, the 24-year-old goalkeeper from Chandigarh, was given the honour of captaining the reserves team of Norway's Stabaek FC in a match of Norway's Second Division League on Sunday. This was the first time an Indian footballer wore the captain's armband for a foreign club, at any level of professional football.
Sandhu had already made history by becoming the first-ever Indian to play in the top division of a European league when he was played for Stabaek FC last year. On Sunday, with Sandhu as captain, the reserves team of Stabaek FC beat FC Senja 2-0 in Oslo.
Talking to Chandigarh Tribune, Sandhu said he was looking forward to playing the new role of captain. "I am happy to be named the captain of my club's reserve side. This is the first time any Indian has captained a European football team and this makes it much bigger than my own happiness," said Sandhu.
Asked about the league's next match, to be played on Thursday, Sandhu said, "I hope that after the first win, the coaching staff will continue to have faith in me. I am eagerly waiting to captain the side for the entire season."
The towering goalkeeper, 6 feet 4 inches tall, remembers his early days spent at St. Stephen's Football Academy in Chandigarh. He was made the goalkeeper of the inter-school team due to his height and big built.
"At that time, I had no idea about my future. Like every other kid, I started playing just for the sake of enjoying. It was only in the inter-school tournaments that I found goalkeeping interesting. Thereafter, I went on to represent local clubs and the key moment of my life came when I joined East Bengal," said Sandhu.
Asked about rejecting the offer of playing in the Indian Super League and I-League in India after joining his club in Norway, Sandhu replied: "I don't see any chance or reason of coming back to India permanently. Europe is one of the best places to play football in and I am lucky to have my own identity. Leagues here are no doubt better than the level of Indian leagues."
Sandhu signed for Stabaek FC in 2014 and made his debut last year in a friendly match against Follo Club. In the same year, he played against Runar Club in the Norwegian Cup where he kept the goal impressively. "I am happy to be trusted by the club management. I will try to give my best and lead my team in the right direction with positive intent," said Sandhu.
Top Stories
Cities