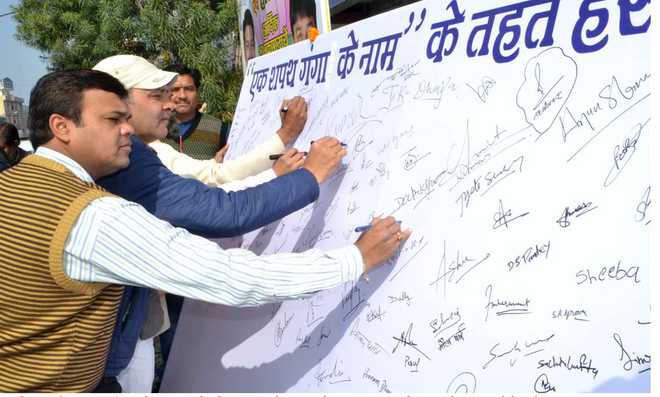 Tribune News Service
Haridwar, February 5
Students of Sanskrit from various educational institutes in Haridwar have started a mission to clean the Ganga so that its sanctity is maintained.
Under the aegis of Uttarakhand Sanskrit University, a majority of the Sanskrit schools, colleges and other learning institutions in the state have come together to generate awareness among people about the impact of pollution in the Ganga, given its status of mother in the Indian culture.
Sanskrit students have initiated a drive as part of the first phase of the clean Ganga mission under which youths, elders, senior citizens, government employees, politicians and even Chief Minister Harish Rawat are being asked to take a pledge to ensure a clean Ganga.
For this pledge forms are being distributed and people are being asked to sign it so as to achieve the target of 1 lakh pledges.
In the second phase, Sanskrit students will hold an awareness march and a cleanliness drive for the Ganga and its tributaries. Anup Baukhandi, spokesperson for the Students Union of Uttarakhand Sanskrit University, said taking cognisance of pollution in the river, Sanskrit scholars decided to contribute to the cause. "We want to generate awareness among people by ensuring they take a pledge regarding efforts towards cleaning Ganga. Initially a target of one lakh pledges has been envisaged, which will involve government employees and Chief Minister Harish Rawat too," said Bahukhandi.
President of Sanskrit University Anil Lakhera demanded that a holiday be declared in the state when all government employees take the pledge regarding clean Ganga. He said this was the need of the hour as when the Chief Minister would himself take the oath and declare the day as a holiday, mass awareness would be generated.
Registrar of Uttarkahand Sanskrit University Girish Chand Awasthi lauded the efforts of the students and assured them of guidance and cooperation from the university, teachers, scholars and literati.
Dr Arvind Narayan Mishra, Dr Rakesh Singh, Shiv Charan Nautiyal, Punit Ranakoti, Neeraj Kukreti, Dhiraj Singh, Vivek Mamgain, Sanjay Joshi, Abhinav Kaushik, Dharampal, Satish Kothiyal, Abhishek Sharma, Dheeraj and a large number of Sanskrit scholars are coordinating the drive.
Top News
Says wants it to commit constructively to establish facts
Blinken says it is 'important for India to work with the Can...
However, neither the government body nor the politicians sin...
Canada's trade and ability to be a part of Indo-Pacific and ...
A property confiscation notice has been affixed outside his ...