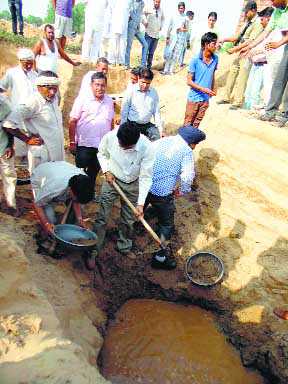 Shiv Kumar Sharma
Yamunanagar, May 5
It was a joyous moment for the team working on reviving the Saraswati River in Yamunanagar district as they found strong water current on reaching a depth of seven-feet today.
This has raised hopes for the entire project, which was receiving criticism from various planks who termed it an RSS ambition.
Assembly Speaker Kanwar Pal Gurjar had inaugurated the excavation work of 'Saraswati Revival Project' at Rullaheri village in Yamunanagar district on April 21.
After inauguration, the District Development and Panchayat Department had undertaken digging work in two-and-a-half-km area. Water struck at nine points when the creek of river was being dug at Mughalwali village on Tuesday.
"The water is potable, fresh in taste and sweet," said Deputy Commissioner SS Phulia, after a visit to the Mughalwali village.
The delighted people of the village offered prayers to Goddess Saraswati and distributed sweets amongst themselves and workers involved in the digging work.
District Development and Panchayat Officer Gagandeep Singh, who is coordinating the Saraswati Revival Project, said the river length in Yamunanagar district would be 55 km.
Earlier, plan was to dig the river till seven feet deep. However, now, they were planning to dig it till 10 feet deep for good natural flow of water. The river would pass through 43 villages of the district.
Chief Minister Manohar Lal Khattar has already announced Rs 50 crore for this project.
The credit to bring the Saraswati River on ground goes to 88-year-old RSS veteran Darshan Lal Jain. He had formed Saraswati Nidi Sodh Sansthan in 1999 and since then, has been struggling for its revival.
"Some people thought it to be a mythological fantasy but water found at 7-feet -deep in its creek has proved that the Saraswati River is flowing below the earth," said Darshan Lal Jain.
The river originates from Adi Badri in Yamunanagar. It is believed that the river passes underground through Kurukshetra, Jind, Hisar, Fatehabad and Sirsa districts before entering Rajasthan and Gujrat.
The DC said the project would prove to be a milestone in the development of this area as it would promote eco-tourism, pilgrimage tourism, water conservation and improve ecological balance.
Top News
Says wants it to commit constructively to establish facts
Blinken says it is 'important for India to work with the Can...
Says the US has engaged directly with the Indian government ...
However, neither the government body nor the politicians sin...
Canada's trade and ability to be a part of Indo-Pacific and ...