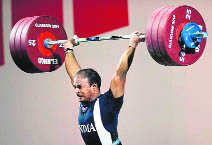 Karam Prakash
Chandigarh, April 1
Tamil Nadu weightlifter Sathish Shivalingam, 23, is working hard in order to make a mark at the Rio Olympic Games. Shivalingam has been improving steadily since he won a gold medal at the 2014 Glasgow Commonwealth Games in the 77kg weight category. Shivalingam had won the top spot after pipping the experienced Ravi Kumar, with a total lift of 328kg (149kg in snatch + 179kg in clean & jerk). Shivalingam's 149kg lift in snatch erased the earlier Commonwealth Games record of 148kg, held by Yuko Peter.
Last year, Shivalingam created his new personal best on August 14 with snatch lift of 152 and clean & jerk lift of 187kg. In December, he surprised everyone when he broke the national record of Satheesha Rai (146+185 = 331kg) by lifting 336kg (149 +187).
Shivalingam started lifting at the age of 16 in Vellore, Tamil Nadu, when his father took him to the gym. Shivalingam followed the legacy because his whole family has been in the sport of weightlifting. His father, a retired armyman, and uncle have been national level weightlifters. Shivalingam said, "I got inspiration from father and uncle and followed their footsteps as much I could."
Shivalingam said he faced the toughest time of his life when he encountered the most feared injury in weightlifting, a slipped disc in his spine, during the World Championship in November last year. After that injury, he had thought of quitting the sport in the middle of his career.
"My coaches in the national camp (Vijay Sharma, Sandeep and Duttan) supported me completely to help me recover and rehabilitate," Shivalingam said. "They made me realise that I have got the potential to qualify and excel at the Olympics. Good teamwork by physiotherapists helped me to recover quickly from the injury."
Shivalingam said he is very thankful to the Weightlifting Federation of India for not discarding him from the national camp during his injury and gave him time to recover.
According to the coaches at the national camp, Shivalingam is one of India's best bets for the future who can qualify and perform well at the Olympics.
Shivalingam said he had recovered from the injury and started lifting weights closer to his personal best.
Last week, in the trials at the NIS in Patiala, Shivalingam lifted 138kg in snatch and 170 in clean and jerk.
Only two male Indian weightlifters – Satheesha Rai in 1996 and Ravi Kumar in 2012 – have been able to qualify for the Olympic Games. Satheesha Rai finished 15th while Ravi finished sixth.
Shivalingam is likely to become thee third Indian male weightlifter to qualify for the Olympics when he participates at the forthcoming Asian Championship to be held from in Kazakhstan from April 20 to 29.