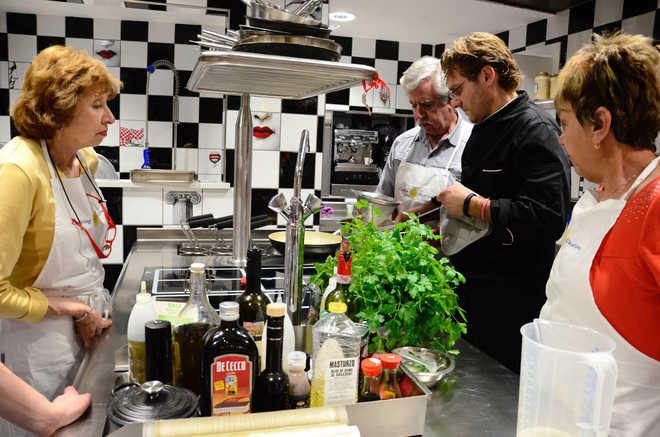 Aditi Garg
There was once a time when travel was all about visiting new places, meeting new people, pacing museums and heritage buildings and marvelling at the architectural brilliance of monuments and skyscrapers. Travel today evokes sensations that linger long after the trip is over. You got it right. Travel isn't just about the place anymore, it's also about its food!
And the best way to know a place is to eat with the locals. Not only does it offer an insight into the local culture but also adds to your experience unlike eating out at a fancy restaurant, which doesn't give an authentic experience. Places that locals love are often off the radar and relatively obscure for a tourist following a preset itinerary. So while you may get churros at any of the food chains across Spain, nothing beats the real deal at some of the lesser-known but popular churreria in the narrow back lanes of its capital. This taste for authenticity is driving tourists to places unheard of for delights that will remain etched in memory for years.
Lauren of Cooking Vacations in Italy started her popular culinary tour when she realised that visiting friends and guests loved the idea of being able to cook like her nonna (grandmother) and mom. Together with an interaction with the locals, market visits and landmark tours, her hands-on cooking classes offer a peek into the culture. She says, "Our cooking tours are set in charming private villas, B&Bs and small boutique hotels, complete with all comforts and modern amenities. Using seasonal produce from gardens and the local market, our guests get an opportunity to work with qualified chefs, cooks, bakers and pastry makers, who share their recipes, tradition and culture with them. The guests get a chance to prepare handmade pastas, ricotta-filled ravioli, Venetian cookies and many more. They can easily recreate these recipes back home.
"An Italian American living in Positano, I write for Taste of Italia and travel extensively through 20 regions of Italy. This helps me create a more authentic experience of the Italian cuisine for my guests." It is their interaction with the locals and the delicacies they whip up that inspires people to sign up for food tours.
Just as fridge magnets and souvenirs are hot on their shopping lists to relive a happy memory, similarly when people fall in love with a cuisine, they want to take it back with them. Though spice mixes are readily available in specialty stores around the world and you can pick up some recipes off the YouTube, it is not until you are introduced to food as it is cooked in home kitchens that you can truly recreate it.
To get that native taste crafted from local ingredients, people are bypassing the usual route to booking holidays and connecting with people via blogs and depending on authenticated reviews of tourists. From merely picking up a recipe that mentions an exotic dish to experiencing what the recipe calls for is something that comes after a stroll through the local bazaars that sell fresh produce.
Likewise, Saffron Palate run by Neha Gupta offers a unique, well-rounded Indian experience. Neha, who lives in a joint family, hosts her classes and meals at her home in Hauz Khas, Delhi. "Combining taste with culture, expats, foreigners and travellers get a true taste of the Indian food and hospitality," says Neha, who has been organising such tours for four years. "The concept is getting very popular globally. Apart from dining with us, the guests can go in for cooking classes and market visits where they learn to source the right ingredients. When I travel abroad, I too opt for cooking classes with the locals. I have done it in Goa too. It makes for a truly satisfying feast for the senses," she says.
For the real feel of a place, you need to mingle with the crowd. Tourists are choosing to step out of their comfort zone and pick a home stay, a B&B or, at least, a meal with a local family. It is around a hearty meal that the most interesting conversations unfold and people really open their hearts. As a chef who specialises in ancient Indian cooking, Rajeev Goyal combined his passion with travel. He has created food tours in various regions where people get to enjoy traditional and famous food items. Currently, he operates in Delhi, Agra, Jaipur, Kerala and beyond and mixes eating with cooking sessions.
He says, "In India, life revolves around food. It is not just about eating but cooking as well. The diversity of food allows for varied experiences. To showcase this diversity in all its authenticity, we offer small batches of personalised cooking classes in a traditional set up. There are food tours that include local specialties that are simply not to be missed."
For those who love food, it is a way to look at the world. Once you are through with ticking the places you wanted to visit, you itch to try all else there is to explore. From the farthest corners of the planet to the closest regions, when food beckons, you follow the trail! This rise in culinary travel can, in part, be attributed to the meteoritic rise in the popularity of travel channels that showcase food as a part of any outing. The Mandala Research in 2013 found that while 40 per cent of travellers in 2006 wanted to learn about new and exotic cuisines and enjoy a wonderful meal, it has grown to 51 per cent now.
According to avid traveller Archana Puri, who is based in Gurgaon, food is always on top of her travel list. She says, "I am regular with my workouts and a stickler for food routine just so I can gorge on food every time I am out of town or abroad. My husband's work has him living out of a suitcase and makes for the perfect reason to tag along every once in a while, or at least have him carry back the goodies I enjoy." No more packing khakhras and pinnis to overseas trips for the fear of new food, rather the newness of food has become the biggest draw.
---
Big picture
According to Global Report on Food Tourism 2012, a report by the UNWTO, food vacations is a rapidly growing segment of tourism. Those who seek such experiences have "higher-than-average expenditure, are demanding and appreciative, and eschew uniformity," says the report.
Terroir is a very important element that encompasses 'environmental and landscape values, history, culture, tradition, the countryside, the sea, the own cuisine of the place'.
To convert territory into terroir is a challenge for food tourism. It lets you approach culture in an 'experimental and participatory' manner. It empowers places that encourage food tourism with sustainability, quality and communication that promotes it as a potential spot for future travellers.
Top News
The 58-year-old OBC leader served as minister for higher edu...
Article 370 was a temporary provision, says CJI as Bench pro...
The Supreme Court, in its judgement on Monday, supports the ...
In a series of posts on X, Shah, the architect of the entire...
The Lok Sabha Secretariat last Friday issued a notification ...