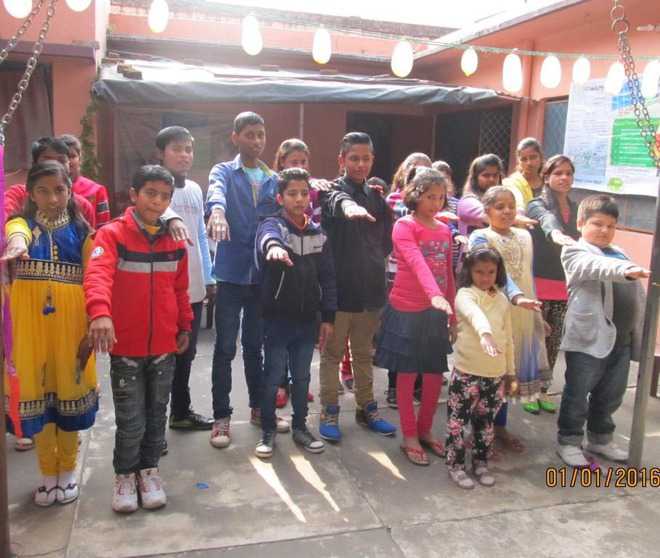 Tribune News Service
Dehradun, January 1
The Harita Dhara Research Development and Education Foundation (HRDEF) organized a sustainable development goals oath ceremony for students here today. Young students took an oath to save water, energy, paper and go for clean waste management using 4Rs–reduce, reuse, recycle, rethink, and plant trees for better environment and sustainable consumption and production.
Children presented various activities such as skits, poems, songs, and dances, conveyed a message related to environment conservation, "Beti Bachhao, Beti Padhao", and creating cards from waste material. They participated in the quiz on environment. The programme was coordinated by Gyan Dhara students Neeraj and Neetu. Manisha, Alpana, Nisha, Naval, Abhishek, Ankush, Monica, Meera, Poonam, Aashi, Achaal are other Gyan Dhara students who actively participated in the programme. Students played games during the programme and Neetu, Neeraj, Raja and Manisha emerged the winners in different activities.
The winners were given prizes and stationery. Finally, the students planted saplings of different flowers to give the message of love, happiness and protecting trees. Their active involvement made the event memorable for everyone. Dr Minal, Apoorve, Vijay Kumar, Suman Lata, Rajshree, KK Agarwal, Sushma, Directors Dr Manisha and Anant Bhaskar Garg made valuable contributions to making the event successful.
Top News
Nijjar was killed in Surrey in British Columbia on June 18
Serious matter, cooperation must: Canadian PM
Recalls 'Silk route', an ancient trade corridor used by Indi...
Says those occupying positions of influence are resisting th...
Speaking at a conclave, the Congress leader says idea of 'on...