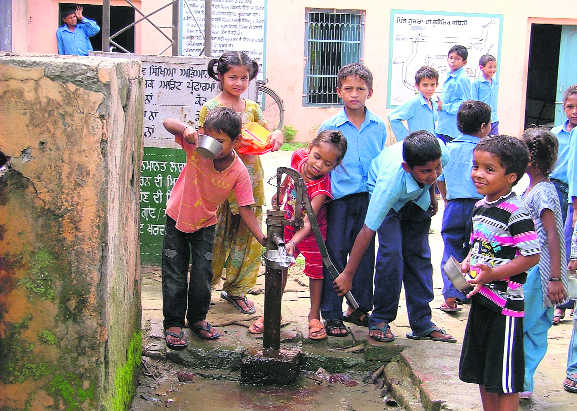 Bharat Khanna
Tribune News Service
Bathinda, July 27
Hazardous and contaminated water from hand pumps containing excessive fluoride, chloride and bacteria is the only source of drinking water available for children in a number of schools of Mansa and Bathinda districts.
Though water from hand pumps have been declared unfit for drinking, with no other option available schoolchildren are drinking unsafe water.
In Mansa about 50 per cent water samples were failed in a recently conducted test.
The situation was similar last year whereas in 2013, about 295 samples were found containing high bacteria out of 657 samples taken from government schools in Mansa.
Besides hand pumps, samples taken from water tanks in schools and underground water being dig out by submersible pumps too have failed. Some samples even from RO plants installed in schools failed too. These samples were taken from RO plants at Gill Kalan village, Sena Patti Anganwari, Bhagu Road, Model Town in Bathinda city and Killi Nihal Singh village of Goniana. The samples were tested last month.
Water samples were taken from government primary schools at Jawaharke, Thoothianwali road, Jandawala and Kulana villages of Budhlada.
In December last year, the Bathinda health authorities collected about 381 samples of water from different areas of the district, including 94 from government schools. Of these, 87 samples had failed, including 30 from government schools.
Water samples from hand pumps in government schools at Bazigar Basti Behman Diwana, Kot Shamir, Goniana Khurd and Nathana failed.
Rajinder Mittal, District Education Officer (Primary), Mansa, said: "Most government schools get supply from water works, although there is some problem in schools located at far-off places. Children in such schools thus drink water from hand pumps. But we will soon get supply regulated in these schools and remove the hand pumps."
Rajinder Singh, DEO, Primary, Bathinda, said: "A number of hand pumps have been removed while the remaining would be removed soon."
Top News
Rana Gurmit Singh Sodhi, Manoranjan Kalia and Amanjot Kaur R...
Can meet at Hyderabad residence on Dec 6, says Kavitha
CM Bhupesh Baghel had earlier accusing the probe agency of c...
Secretary of State Antony Blinken emphasises that Biden Admi...
Gurpatwant Pannu, head of the banned terror outfit Sikhs For...