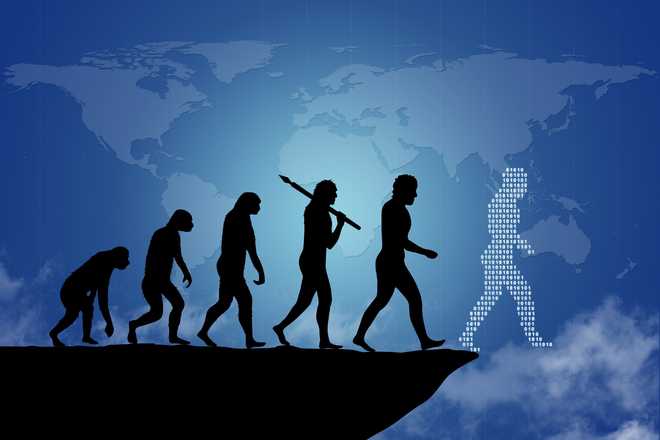 Gauri Chhabra
Have you ever given some scientific thought and musings to the dragons from the 'Game of Thrones' books and TV series. Fictional creations in science fiction and fantasy can certainly be instructive and an apt launch point for discussion and thoughts about what might be possible or plausible in reality. Have you ever wondered just how realistic these animals are, in particular, given their huge size Or still further, how did they grow in size Or going back in history, how did mankind come into existence? The answers to all these questions are in the discipline that studies mankind - Anthropology.
Well, Anthropology is the science that deals with the study of mankind and its origin. It is the science that deals with the development of human beings and the social, cultural and physical growth and behaviour of mankind. Although anthropology was a Natural Science originally, but over the years it has evolved into a much technical and complex field which not only studies human society but also how the evolution occurred.
Getting in
To be a professional anthropologist, you have to qualify BSc in Anthropology. The minimum qualification for BSc is Plus II with science subjects. However, requirement of individual colleges is different such as Plus II with Biology and minimum percentage of marks scored. For better career options, you can pursue MSc in Anthropology. There are also higher studies such as MPhil and PhD. Nevertheless, some universities also offer BA and MA courses in anthropology, wherein you can get admission even if you are a Plus II in social sciences.
Course cursor
Some of the courses available in this subject are:
BA: In this course you will have to study about the evolution of man and also the socio-cultural development of humans. In this course you will study several branches of anthropology like socio-cultural, biological, physical, applied, linguistic and archaeological that deal with various aspects of human development.
BSc Honors: This degree identifies the social and cultural developments in human beings. You would study the subject that deals with both the physical and emotional aspect in the development of human beings. The former deals with the biological development in human beings, whereas the latter deals with evolution of society. Besides, physical aspect also deals with development and growth of communities, cultures and the like.
MA: This programme would provide a broad knowledge of anthropological theory and research methods. You would build your research and writing skills in the graduate courses, culminating in the preparation of a significant piece of scholarly writing, which constitutes the thesis.
MSc: This course is based on an integrated approach which incorporates insights from physical, social and archaeological anthropology. The programme attempts to provide an in-depth understanding which involves a holistic approach of anthropology using theoretical and practical techniques. It aims to develop professional competence in view of the perceivable need for trained anthropologists in academic and research institutes, NGOs, government organizations and applied sciences.
It has origins in humanities, natural sciences, and social sciences and it is career oriented and opens many job scopes for them in various fields.
Career pathways
Anthropology opens a wide array of career choices. Bachelor's degree holders may find jobs as research assistants, foreign service officers or public relations officers. Physical anthropologists may apply their training to help law enforcement agents with forensic investigations. Archaeologists often conduct site assessments for cultural resource management firms, or curate artifacts for research museums.
Following are some fields that anthropology students may get into:
Academics: The most linear progression after a degree in anthropology is teaching where you would be required to spend a great deal of time preparing for classes, writing lectures, grading papers, working with individual students, composing scholarly articles, and writing books. A number of academic anthropologists find careers in other departments or university programmes, such as schools of medicine, epidemiology, public health, ethnic studies, cultural studies, community or area studies, linguistics, education, ecology, cognitive psychology and neural science.
Corporate houses: Many corporations look explicitly for anthropologists, recognising the utility of their perspective on a corporate team. A corporate anthropologist working in market research might conduct targeted focus groups to examine consumer preference patterns not readily apparent through statistical or survey methods. You can use your research skills to talk to consumers and users of technology to find out how products and services could be improved to better
continued on p3
meet the needs of consumers. You can start as a field technician and conduct archaeological fieldwork, including solo monitoring, survey, testing, and data recovery. You would make use of topographic maps, aerial photographs, GPS units, and other maps and tools to carry out required job functions and assist with reports and other technical documents, conducting class file searches, site form preparation, literature review and historic or prehistoric research. Anthropology post-graduates can find job openings in several areas in the private sector like Law, Social work, Journalism, Public health, urban planning and the like.
Research: The Anthropological Survey of India can be considered as one of the pioneers in recruiting those with graduation in anthropology in the government sector. Candidates with a degree in anthropology can also find job openings in International agencies like WHO, UNESCO and UNICEF. Other organizations that deal with the staffing of anthropologist include Commission for Scheduled Castes, Schedule Tribes, Minority Commission, OBC Commission, Planning Commission, Police Department and the like.
Non-profit Organisations: Non-governmental organisations, such as international health organisations and development banks seek their expertise in understanding of relations between industry and society. They employ anthropologists to help design and implement a wide variety of programmes. However, these aren't the only opportunities available. Many anthropologists work in local, community-based settings for non-profit agencies. Sometimes, they work through community-based research organizations like the Institute for Community Research.
Linguistics: You may work as a linguistic anthropologist and plan, direct and conduct research. You would be required to use individual and group interviews, focus groups, consultants and observation to obtain data by using established techniques or creating new techniques. Computer programmes may be used to help record and analyze findings. Anthropologists write papers based on their research findings and present them to anthropological societies, or to general audience. Some linguistic anthropologists may act as consultants to governmental bodies or other organisations.
Medicine: Medical anthropology is another research-heavy field that also requires developing relationships across many types of organisations, such as hospitals, museums and government agencies. You need to beef it up with analytical and written and oral communication skills to process and report findings. Aspiring medical anthropologists must begin by earning a bachelor's degree. A major in anthropology can prepare students for this career field. Coursework in anthropology includes language, culture, research methods and religion. Other useful classes are those in statistics, maths, quantitative research and research analysis. You may also study nursing, public health or other medical fields focusing on science and health.
Epidemiology: As an epidemiologist, you would work in the medicine department to track the origin and spread of infectious diseases and work with public health officials to develop preventive measures. You would analyse scientific data in laboratory settings, but indulge in fieldwork similar to that of anthropologists, conducting interviews and collecting evidence for analysis.
Summing up
With the increase in the need for understanding mankind and its myriad moods and forms, Anthropology is gaining ground. Multinationals and other big corporations are seeing the value and started working with anthropologists. Today, candidates with anthropology background are preferred over MBAs as recruiters, engagement managers and CSR executives.
Therefore, if you wish to get into a discipline that is the most humanistic of all sciences and the most scientific of all humanities, Anthropology is the best option for you.
Caption: Research focused on rituals, social, economic and political links between past and present is what makes an anthropologist's work exciting
Top News
Suspense mounts as to who will be BJP's chief minister in an...
'Results serve lesson to Congress and opposition's INDIA blo...
Shivraj Chouhan in March launched Ladli Behna scheme, which ...
A fierce critic of BRS chief K Chandrasekhar Rao, Reddy, Tel...
Congress, which was hoping to buck the trend of incumbent be...