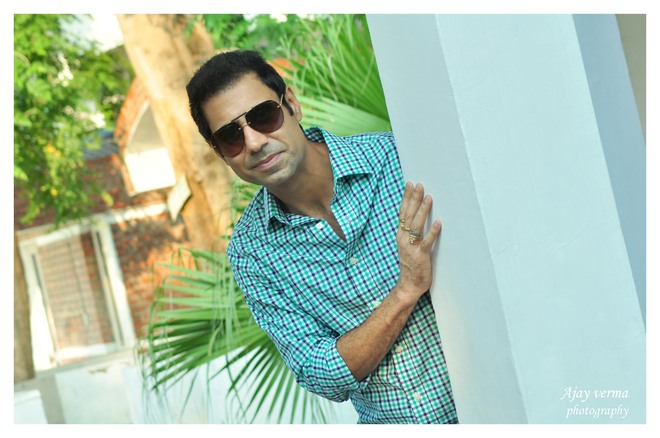 Karmavali, Chhawain Di Rutt, Raet Di Ikk Muthhi, Parchhawain, Sarhad, Sirnaave, Man Jeetey Jag Jeet, Jugnu Hazir Hai, Pagdandian… No, these are not the names of upcoming Punjabi films. These are Punjabi television serials of yore which showcased stories, plucked from the treasure trove of Punjabi literature.
The entire Punjabi entertainment industry is now being either defined by music, rap, or laugh-a-riot Punjabi films, minting crores at the box office. Nobody has actually noticed the total and marked disappearance of Punjabi TV serials from the scene all-together. Forget about their absence, have you ever heard a Punjabi singer or actor expressing concern over their absence. Despite a rich heritage of Punjabi literature , we never felt the need to use its content in TV serials. Is this a matter of concern, something that should worry the Punjabi artistes' fraternity on the whole, is a question that looms large?
The missing link
It is ironical but true that the robust growth of Punjabi film industry rang the death knell for the once-popular Punjabi TV dramas. Says popular actor-comedian Rana Ranbir, "It is surprising at see the speed at which TV dramas have been wiped out from our lives — thanks to Punjabi films and music." This is just one of the many reasons that those related to television agree upon. In the name of Punjabi shows, we only have serial on campus life and rest are religiously dedicated to music.
BN Sharma, popular actor-comedian, who started started with drama and then shifted to TV, says, "Today's generation doesn't have the time to watch weekly episodes; they would rather download the entire show and watch it in one go. Besides, I doubt they would have the inclination to watch serious dramas based on adaptations or even comic shows."
Gone are the days
Top character artistes and comedians of Punjabi cinema started their career with theatre and TV. Binnu Dhillon, Rana Ranbir, BN Sharma, Jaswinder Bhalla, Bhotu Shah and many more owe their allegiance to Punjabi TV serials. While they do miss the TV shows, they also realise that instead of a TV serial, now any producer or actor would rather chose a film. Binnu, who has worked in umpteen Punjabi serials, started of with serial Parchhawain (1996 on Jalandhar Doordarshan) which was composed and coordinated by Gurbir Singh, one of the well-known TV executives. He worked in other serials like Sarhad, Sirnaave, Man Jeetey Jag Jeet, Kankaal, Pagdandian, etc. "Punjabi television serials were a big thing, in fact, the only thing in terms of entertainment for the Punjabi audience at that time."
Binnu recalls the seriousness and value of these serials. "These would highlight a given scenario in our social structure. It could be dowry, or a story that depicts the agony and lifelong repentance of a young man whose lust and cowardice lead to the death of his innocent beloved." These Punjabi serials are long gone, at present we only have TV shows on Punjabi channels that cater to only music or stories from the world of entertainment.
A stitch back in time
Gurpreet Ghuggi, who became a household name with his character Bulara of Parchhaven, says, "Television serials of past had originality in terms of story and script and offered more scope for acting."
Even while Gurpreet acknowledges the role of commercialisation disconnecting the audience from original serials, he also says that nothing much can be done about it. "If you pull characters out of Amrita Pritam or Nanak Singh's works, will the present generation be able to relate to it. We need to understand that there is at least a 10-year gap from those serials and now."
With Punjabi channels all about Punjabi music and films, many thinkers, writers and loyalist to TV feel the pinch. Popular Punjabi critic, poet and writer Tejwant Gill, known for his works like Paash, Past, Present, says, "Today, Punjabi cinema is all about comedy with romance thrown in. On the other hand, TV serials like Sarhad, Lori or Man Jeetey Jag Jeet had substantial content. But you can't blame the writers. We still have creative writers but now the divide is between those who write and those who write commercially."
While Gill would want his works being given a shape of a TV serial, he ponders, "Do you think this generation would have the patience to see a Paash progress every week through his trials and tribulations. They would rather see him, shown glamorously on screen." Indeed! The space for TV serials has been successfully taken by music-based serials, and nobody, except for the actors who started their careers with TV, are feeling the pinch.
---
Actor Speak
Rana Ranbir, actor-writer
You started you career with TV?
The first time I faced camera, it was for Punjabi serial Man Jitey Jag Jeet. Thereafter, I wrote a Punjabi drama Parchavain as well. Though, I became a household name with Xcuse me Please and Jugnu Kehnda Hai.
Do you miss the absence of regional TV?
Of course, a true artist will always because the real satisfaction for any artist comes from doing theatre or TV. Also many a times you can't say so much through a film, which is possible through a serial. I miss the fiction and travel shows. Now all we have is music.
What makes you think TV serials are important?
For any beginner, TV provides a great platform to showcase real acting skills. We have so many actors who can easily get noticed through serials.
What is that you would want to see now on TV?
I would want to see the stories of Jaswant Singh Kanwal or Waryam Sandhu taking shape of a TV drama.
---
Channel's perspective
Baljinder Mahant, cluster programming head, 9X Tashan
Baljinder Singh Mahant, cluster programming head 9 XM and 9X Tashan, who launched the famous 9X Tashan Punjabi channel almost four years back, was surprised how Punjab lapped up to the new content they offered. "This is what I am trying to see, we have definitely lost touch with the dramas and serials because people want to watch what is trending." Baljinder acknowledges the presence of good literature. "The challenge, however, is to serve it to the viewers in a format they would love to watch," he adds, "Punjabis are always in awe of something else, something like Bollywood. If only they had a strong passion to keep their folklore, heritage alive, we would definitely see more dramas on screen."
Top News
Martyr PM's son who walked for national unity can never insu...
Says Rahul Gandhi's disqualification culmination of lawful p...
Indian Ambassador to the US Taranjit Singh Sandhu was not in...
The Khalistan sympathiser had failed to take control of the ...
Search operation for 'Waris Punjab De' chief enters 9th day