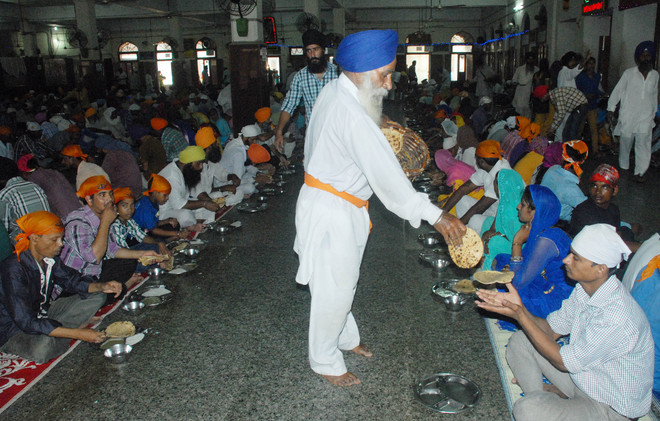 Perneet Singh
Tribune News Service
Amritsar, August 17
To provide chemical-free 'langar' to the devotees visiting the Golden Temple and other historic shrines, the SGPC has decided to adopt organic farming. In the first phase of the project, 5 acres in each of the SGPC-run 35 historic gurdwaras will be covered.
The SGPC is hoping that its initiative would promote organic farming in the state where the people urgently need to get rid of agricultural produce laced with chemicals due to the indiscriminate use of pesticides.
Though the SGPC-run gurdwaras own a whopping 13,000 acres, the premier Sikh organisation right now is taking up organic farming on an experimental basis.
It has already allocated 40 acres at Gurdwara Gurusar Satlani to be developed as a model farm and the agricultural produce generated from there will be used for preparing 'langar' at the Golden Temple.
Now, it has gone a step further and included 35 historic gurdwaras in Punjab and Haryana under the project. These gurdwaras will primarily grow wheat, rice and vegetables in 5 acres each. For this, the SGPC has also kicked off consultations with agricultural experts.
SGPC additional secretary Diljeet Singh Bedi said organic farming was the new mission of the SGPC in which they would sensitise the people in the state to cut down on the use of fertilisers and pesticides.
He said they would encourage the people to use products prepared through organic farming. He said they've already identified the gurdwaras having 5 acres or more for the project.
He said that agricultural experts have already paid a visit to some of these gurdwaras. "The experts have told us that it would take three years to finish off the effect of pesticides in the land. Though the time period is long, we are committed to organic farming which will continue once it gets started," he said.
Meanwhile, the SGPC has also set up an orchard at Guru Ka Bagh Gurdwara in Amritsar in which they've grown different types of fruits and plants. Besides, it has also grown fruit-bearing trees on eight acres at Satlani Sahib in addition to Gurdwara Chheharta Sahib. More orchards are on the cards at Patiala, Anandpur Sahib and Machhiwara, said the SGPC officials here.
Top News
The accused was in a relationship with the minor, but they h...
The accident takes place in Jhajjar Kotli area after the dri...
He was admitted to a Nagpur-based hospital last week for the...
Once ready, China will be the only country to own a space st...
The 9 victims include 3 children