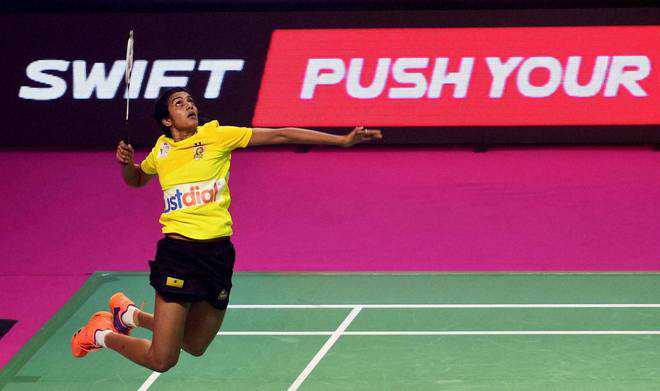 Vinayak Padmadeo
The relief of finally ending her barren run could be seen moments after PV Sindhu's final win over Japan's Nozomi Okuhara. A net point ended the contest 21-19, 21-17. Sindhu dropped to her knees to celebrate her elusive win.
Sunday's victory at the BWF World Tour Finals ended her drought that had extended to eight finals, a run that started with her pulsating loss against Japan's Nozomi Okuhara in the final of the World Badminton Championships that was held in Glasgow in August 2017.
And after every final loss since then, Sindhu was subjected to a host of questions on her failures in the finals or her inability to win against current World No.1 Tai Tzu Ying. 'Choker', 'not gold standard' were some of the euphemisms wantonly used to criticise her after every high-profile defeat.
Super Series Finals loss to Akane Yamaguchi, India Open final loss against USA's Beiwin Zhang, Commonwealth Games final loss against Saina Nehwal, Asian Games final loss against Tai Tzu and the 2018 World Championships final loss against Carolina Marin are some of her misses in the last year or so.
With each loss, the pressure to win was also mounting, and it was taking its toll on her mind. The defeat against Zhang at the India Open in January was felt the worse as she was the overwhelming favourite to win the title at home. The 18-21, 21-11, 20-22 loss almost broke her. Refusing to interact with the waiting media, Sindhu went to the practice court with tears rolling down her eyes. National coach P Gopichand, her father PV Ramana and other officials consoled her. The seeds of Sunday's win were sown then.
Ramana laughed when reminded of the incident.
"It shows the hunger of the player. 'I would have won and I have to win this' are the thoughts then. Unless and until you repent for what happened or what you have lost, then you know how much the loss means to the player," said Ramana, who is a former volleyball international, while recalling the drama.
"Her tears that day showed how much she wanted to win. She has finally (won) after four more matches," he added.
The Commonwealth Games final loss against Saina Nehwal created a rift within the team. Ramana suggested that the training sessions were 'used' by Saina to defeat Sindhu. Adding up to all this was constant pressure from the media and fans. And it made her resolve stronger or as her father explained "Usko zidd ho gayi hai (it has made her stubborn)".
"This is sport. So one should think long and hard before saying that Sindhu will never win or she only wins silver," he said.
"People would judgingly say 'arre she only wins silver'. Of course, those thoughts came because they also wanted her to win. We couldn't find fault with them as she was representing the country and they wanted India to win. Their criticism became a motivation for us. Now nobody will speak like that. Her drive to win became stronger. She knew she had to win else her critics will continue to say that 'she wins silver only'. We could all see how happy she was after winning," Ramana added.
Big wins
The manner in which the drought ended delighted the Sindhu camp. Starting from Akane Yamaguchi, Sindhu was unbeaten in the Round Robin Phase of the World Tour Final in Guangzhou, China. The icing on the cake was ending a run of six-straight losses against World No.1 Tai Tzu.
Before this 14-21, 21-16, 21-18 win, Sindhu never came close to beating her. The India Open loss was avenged too. She, then, slayed old adversary Ratchanok Intanon of Thailand in the semi-final before the tactical victory over Okuhara.
"I am so happy that she did it against top players," Ramana said.
"If it would have been a normal tournament, people would have inferred that she got easy matches and now she has won gold. But she did it against the world's best. We are happy that she has beaten cream of the world like Tai Tzu, Yamaguchi (World No.2), Okhura (World no.4). She has clinched the gold after defeating all top players in the fray," he added.
Much like her resolve, the strategy to get one over Tai Tzu, Okuhara and Yamaguchi has been a work in progress. She was told to take the shuttle early and use the drop more often than the smashes. The idea was to play with patience against the trio, who are known for their exceptional ability to retrieve.
"She would run the risk of getting tired had she used smashes against the likes of Tai Tzu, Okhuhara and Yamaguchi. You have to keep them in the third court and be more cautious and play with patience. Being short in height and agile, they can easily retrieve smashes and that was the reason why she kept her smashes away. It was a plan and she played accordingly," Ramana revealed.
Strategy apart, Sindhu had put in loads of effort to build on her strength and endurance to last three gruelling sets, if need be. One of her major criticisms was that she would look wasted in the deciding set. To get over this, Sindhu has sought the services of Srikanth, a fitness expert with Hyderbad's Suchitra Badminton Academy. Twice a week, she works out at the academy mostly with weights while the rest of the week involves an endurance running routine within the confines of city's Babu Khan Ground. The hard work paid off in Guangzhou. In her cryptic reply to the critics, Sindhu hoped that the questions of her failing to win the finals would end now.
"People have been asking me the same question. I think the question won't come again — asking why I always lose in the final. Now I can say I won the gold and I'm proud of it. It was good that people were asking me about losing so many finals, because I had to ask myself why I was losing. Finally I got the answer," she said post her win.
Agenda 2019
The win has also raised hopes of national coach Pullela Gopichand, who now wants her to win the prestigious All-England title in 2019.
"For us, 2020 would be a big one, and then 2022. Basically the Commonwealth, Asian Games and the Olympics are the big events but having said that, the All England title will be the target next year. It has been quite a while since we have won the All England Championship. It will be almost 20 years since Prakash sir won, and then, I won the Championship. I hope this time, it doesn't take so long."
The message is loud and clear. After ending the losing run, Gopichand wants Sindhu to go on a winning streak.
Push from losses
2018 Asian Games final: Sindhu lost to Tai Tzu Ying 13-21, 16-21
2018 World Championships final: Lost to Carolina Marin 19-21, 10-21
Thailand Open final: Lost to Nozomi Okuhara 15-21, 18-21
Commonwealth Games final: Lost to Saina Nehwal 18-21, 21-23
India Open: Lost to Beiwen Zhang 18-21, 21-11, 20-22
2017 Super Series final: Lost to Akane Yamaguchi 21-15, 12-21, 19-21
Hong Kong Open final: Lost to Tai Tzu Ying 18-21, 18-21
2017 World Championships final: Lost to Nozomi Okuhara 19-21, 22-20, 20-22