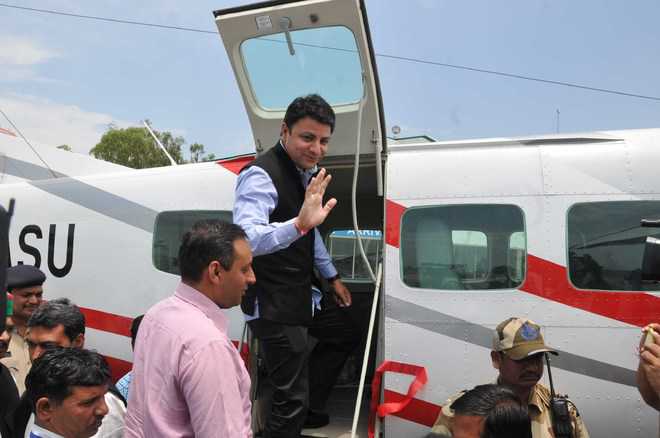 Tribune News Service
Shimla, June 9
State Urban Development Minister Sudhir Sharma today flagged off the Air Himalayas flight from the Shimla airport to Gaggal near Kangra. To mark the commencement of the service, the minister boarded the plane.
He said this would not only boost the air connectivity, but also attract high-end tourists. Lauding the Air Himalayas' efforts, Sudhir said HIMUDA was constructing a satellite township near the Jubbarhatti airport to beautify the surrounding area, adding that the airport road would also be expanded.
He said the nine-seater non-scheduled aircraft would fly six times a day between Shimla-Dharamsala- Shimla, Dharamsala-Shimla-Chandigarh and Chandigarh-Kullu.
The flights from the Jubbarhatti airport have resumed after almost four years. The passenger service is being provided by the Air Himalayas in collaboration with IIC Technologies Limited, Hyderabad. The flights will link Chandigarh, Shimla, Kullu and Dharamsala through their Cessna Grand Master Cervan nine-seater aircraft.
The fare for the flight from Kullu to Chandigarh and Shimla to Dharamsala has been fixed at Rs 6,999 and with taxes, it will cost a passenger about Rs 8,000. The fare for the Shimla-Chandigarh flight is Rs 2,500.
The flight from Chandigarh to Kullu will take off at 8.50 am, from Kullu to Chandigarh at 9.50 am, Chandigarh to Shimla at 10.50 am, Shimla to Gaggal at 11.30 am, Gaggal to Shimla at 1 pm and Shimla to Chandigarh at 2.20 pm every day. The airline's timings are flexible and can be changed as per the convenience of passengers.
The tourist footfall has witnessed a rise in the past years. Statistics reveal that a total of 1.71 crore tourists have visited Himachal so far. This also includes 4.06 foreign tourists. The state as a total of about 2,600 registered hotels.
Top News
Separatist still at large | 6 FIRs, 114 arrests so far | ISI...
1 held for pulling down Tricolour in London
Unveils $75 bn plan to counter China