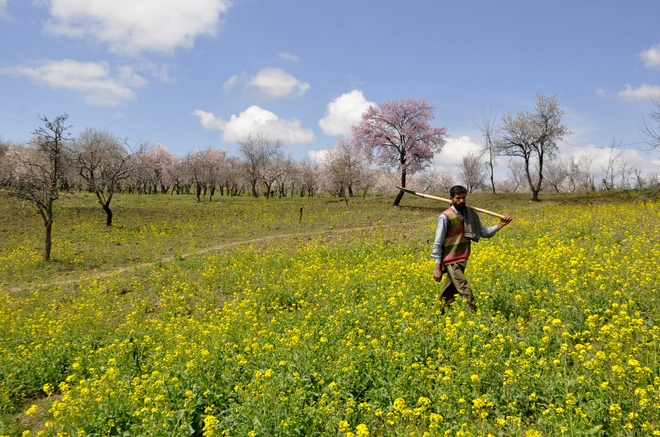 Tribune News Service
Jammu, March 26
Minister for Agriculture Ghulam Nabi Lone Hanjura today expressed concern over shrinking of agricultural land in Jammu and Kashmir. He emphasised the need to make stringent laws to stop conversion of agricultural land.
While replying to the demands for grants of the Agriculture Department in the Legislative Assembly, the Agriculture Minister said the shrinking of agricultural land was the biggest challenge before the government and it was the need of the hour to take some effective steps in this regard.
Hanjura today said that under the National Bank for Agriculture and Rural Development (NABARD) loan funding, 13 project reports at Rs 58.39 crore had been prepared and so far nine projects had been accorded administrative approval. Such development under NABARD assistance has taken place for the first time in the Agriculture Department, he said.
He said a multi-commodity cold storage was in the pipeline and had been proposed at New Delhi.
The minister said the storage facility was expected to help farmers to capture the market facilities in Delhi.
Hanjura said some achievement had been registered under various sectors of the Agriculture Production Department. He said an effective delivery system was required to increase the interface of the department with farmers and for the purpose awareness and demonstrations needed to be organised to transfer the technology from the lab to the land.
The Agriculture Minister said a working group of experts would be brought together to guide the government on how to boost agriculture and horticulture productivity for sustainable development. He said some prominent and reputed stakeholders would also be taken on board so that the impact of schemes under implementation was visible on the ground.
For this purpose, demonstration plots will be identified and integrated approach be adopted and area specific trainings will be conducted, the minister said.
He said with the introduction of the saffron mission in the state, the average production of saffron had increased from 2.5 kg per hectare during 2009-10 to 4 kg per hectare during 2014-15. He said the project was approved for Rs 400.11 crore under the saffron mission component of the Rashtriya Krishi Vikas Yojana. An amount of Rs 179.72 crore stands released by the Centre of which Rs 142.72 crore has been spent as on February-end 2015.
Hanjura said multiplication of basmati rice was done at Chakrohi farm and a project of Rs 30 crore recommended by the special task force was nearing completion.