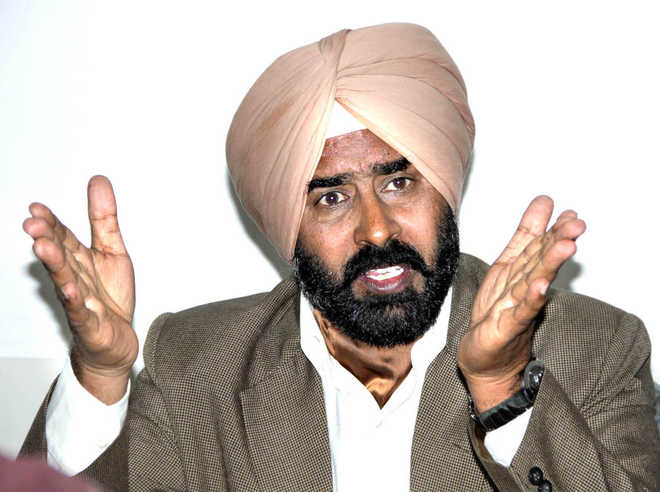 Tribune News Service
Jalandhar, July 20
Pargat Singh, who was suspended from the Shiromani Akali Dal (SAD) on Tuesday, defended the Aam Aadmi Party (AAP) against detractors, who term it a rookie outfit. During a press conference on Wednesday, he said the situation in Punjab couldn't be worse than it was now.
SAD president Sukhbir Singh Badal had suspended the Jalandhar Cantt MLA and former Indian hockey captain for alleged anti-party activities, saying indiscipline would not be tolerated at any cost.
(Follow The Tribune on Facebook; and Twitter @thetribunechd)
"If speaking truth in democracy and raising voice of people in my constituency is anti-party activity then I am committed to it and I will accept it," Pargat said while reacting to his suspension from the party.
Commenting on Navjot Sidhu, who recently resigned from the Rajya Sabha, Pargat Singh said Sidhu had been a batsman and he a defender; it would be good if the qualities of both of them combined.
He began his press conference with a minute's silence for Mohammad Shahid, the 1980 Olympics gold medallist, who passed away today.
Terming SAD as a party of sycophants and agents, Pargat Singh said Sukhbir Badal thinks he is a superhuman.
The MLA had objected to setting up of a solid waste management plant in his constituency.
"The solid waste management plant which was proposed in my constituency was logically, legally, technically and environmentally not right and people of my area were against it," Pargat Singh said.
"I will talk (on AAP) when appropriate time comes. Let the time come. In due course of time, I will reveal each and every thing," said Pargat when asked about possibility of joining AAP. With PTI Inputs
Top Stories