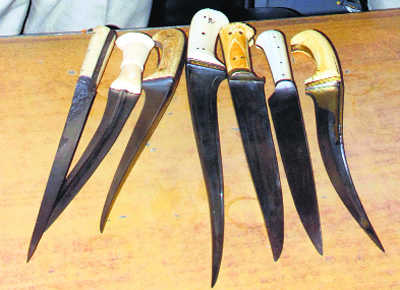 PK Jaiswar
Tribune News Service
Amritsar, January 21
Seven daggers of the 18th century Sikh warriors that were stolen from Maharaja Ranjit Singh Panorama on January 11 at the historic Ram Bagh garden in Amritsar were recovered on Tuesday evening.
These daggers were found in Gurdwara Ramsar near the Gurdwara Shaheed Baba Deep Singh shrine. Eyewitness said an unidentified woman left the daggers covered in a "Rumala Sahib".
Gurdwara priests spotted the daggers after evening prayers on Tuesday and informed the Shiromani Gurdwara Parbandhak Committee (SGPC). The daggers were handed over to the police. The relics were stolen from a room on the first floor of the panorama. The room was usually locked and only opened for VIPs. Of the nine daggers kept in a glass enclosure, seven were found missing.
Deputy Commissioner of Police Bikram Pal Singh Bhatti said the unidentified woman also left a note along with the daggers which states no insider was involved in the theft. It also states that such artefacts should be displayed in the general gallery instead of the VIP gallery. The woman could not be identified in the absence of CCTV cameras, said Bhatti.
He said efforts were on to identify the woman. "We are also waiting for the fingerprint report which would provide a clue about the thieves," he said. The police still suspect the role of an insider in the theft.
"The written note mentioned the words VIP gallery and general gallery, which only an insider can know," said a police officer.
Raman Kumar, curator of Mahraja Ranjit Singh Museum, said the authenticity of the daggers would be checked. He said the daggers had ivory handles.
Top News
Jaishankar meets UN Secretary-General Antonio Guterres and P...
Canada is home to about 770,000 Sikhs - the highest populati...
Canada has alleged that Indian authorities were behind Nijja...