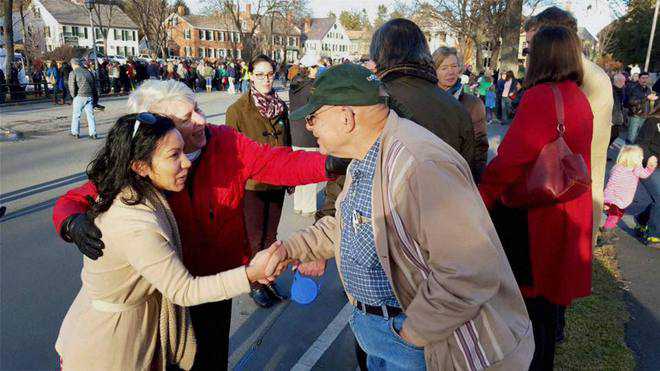 Washington, March 13
A great-great-granddaughter of Sir Ganga Ram, an Indian civil engineer known for building a network of health infrastructure in both India and Pakistan before Partition, is running for a top elected position in the US state of Vermont.
Seeking inspiration from her great-great-grandfather, Indian-Jewish-American Kesha Ram, 29, promises to make accessible healthcare and education as one of her prime focus if elected as the Lt Governor of Vermont later this fall.
Vermont has been in the news lately as its Senator, Bernie Sanders, is a Democratic presidential candidate and is giving a run for her money to the party's frontrunner, Hillary Clinton.
"I was there (in India) last year. Unfortunately, I had to take my father's ashes to the holy river. But during the course of the trip, we were able to visit Sir Ganga Ram hospital, where my relatives lead the board of directors," she told PTI in an interview.
Her father was born in Lahore, but after Partition the family moved to India and grew in Punjab. He went for studies to Los Angeles, where he met her mother, a Jewish-American.
"Together they opened an Irish pub in Los Angeles," she said, adding that here she helped her father.
For her studies, Ram moved to the University of Vermont. She was elected to the state House of Representatives at the age of 22 to represent the University District and Hill Section of Burlington. She has represented the district since 2009.
"It (Indian and Jewish heritage) really gave me an important foundation in terms of tolerance and being versatile, hoping to bridge different worlds," she said.
Ram said Sanders gave her the "first big break" in politics. "He invited me to introduce him and then Senator Barack Obama on stage when I was a student, when Bernie was running for the Senate seat for the first time. Since then, I have been very grateful to his leadership and his role in shaping, change and advocating for economic equality," Kesha said, adding that for now she was very supportive of the message and energy coming from the Sanders' campaign.
Asked if the US is ready for the first woman President, she said yes. — PTI
Top News
Aviation Ministry had imposed lower and upper limits on dome...
Tejashwi Yadav is deputy CM
New CJI will have a brief tenure of less than three months
A bench of Justices Surya Kant and J B Pardiwala also extend...
After dedicating to the nation the Rs 900 crore-second gener...