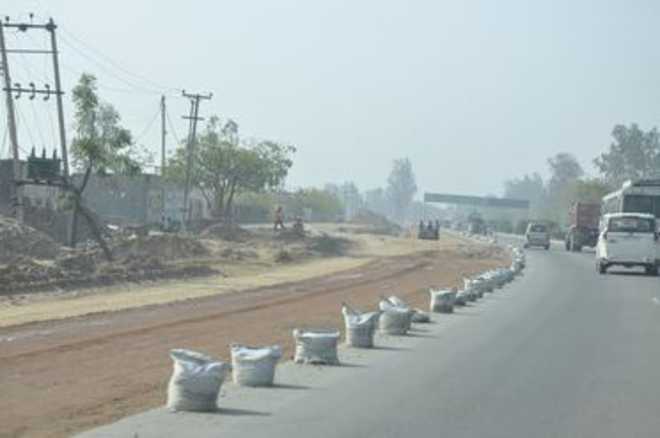 Bijendra Ahlawat
Tribune News Service
Faridabad, February 18
The project of widening the National Highway 2 to six lanes is set to miss the deadline of March 31 in view of tardy pace of work.
The authorities have recommended extending the deadline to December 31, 2016. The work on the Rs 3,000-crore project was started in October 2012 and is under the supervision of the National Highways Authority of India (NHAI).
Only 20 per cent to 25 per cent of the work had been completed in 28 months, sources in the NHAI said.
The project conceived by the previous Congress government was taken up to decongest the NH 2, popularly known as the Mathura Road, and make it signal-free, as it is one of the important highways that pass through Faridabad and Palwal districts.
The NHAI had entered into an MoU on October 16, 2012, with Reliance Infra Limited to widen the NH 2 to six lanes and make it signal-free till border with Uttar Pradesh. Reliance allotted the work to another company that which was called an executive agency of the project.
According to officials concerned, hurdles in the project delayed the start of the project and later resulted in slow work.
"Lack of clearances from several departments, including forest, and encroachments along the highway have made the task difficult," said MK Gupta, Project Director, NHAI.
He, though, claimed the work was on in full swing. "The deadline is likely to be revised to December 2016. The project, once completed, will address the problem of traffic congestion."
Faridabad MP Krishan Pal Gurjar said he would ensure early completion of the project.
Top News
The Adani Group had released a 413-page response to allegati...
Prospects for UK economy especially weak, China yet to touch...
The bench takes note of the submissions by lawyer ML Sharma ...
Punjab has challenged the high court order of granting regul...
The rally being led by Congress leaders Rahul Gandhi, Priyan...