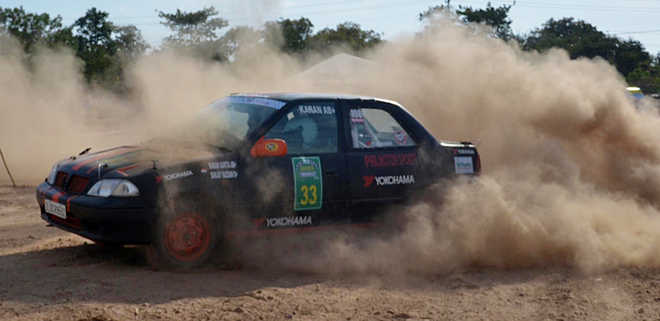 Tribune News Service
C
handigarh, March 20
The 28th SJOBA-Thunderbolt Rally-2015 got an exciting start with the Super Special Stage held at the Exhibition Ground in Sector 34, here, today.
Gypsies, cars and bikes competing in the Challenge Rally participated in this leg and drivers zipped around the specially created track negotiating the hairpin bends and leaving behind a cloud of dust as they exhibited their skills, said Vivek Sood, president, SJOBA.
Announcing the results, Nippy Ghai, COC, said: "In Gypsies, Suresh Rana raced in with the best time of 01:39:239 minutes. Amanpreet Ahluwalia came in 01:41:190, while Samrat Yadav was a shade behind in 01:41:615 for the third spot."
"In cars, the fastest was Harvinder Bhola 01:40:976 minutes while Jagbir Nirwan clocked 01:41:369 minutes for the second spot. Third place was bagged by Sanjay Sikand with 01:41:630 minutes."
"In the bikes category, Saajan Preet Singh was the fastest with 01:46:511 minutes, second with Umang Saxena with 01:47:731 minutes, while Arjun Sangwan was third with 01:49:174".
For the first leg of the Challenge Rally, the teams will be flagged off on Day 2 (March 21) from St Johns School at 6am and are expected to reach St Johns School by 5pm on March 22.
For the Challenge Rally, the route is a challenging and adventurous one covering fast tarmacs with winding hairpins, unmetalled surfaces and exhilarating hilly terrain in Haryana and Himachal Pradesh.
Top News
Action taken under relevant Section of Unlawful Activities (...
Says wants it to commit constructively to establish facts
Blinken says it is 'important for India to work with the Can...
Harpal Cheema responds to Governor Banwarilal Purohit's lett...
Pawar and Adani first inaugurated a factory at a village in ...