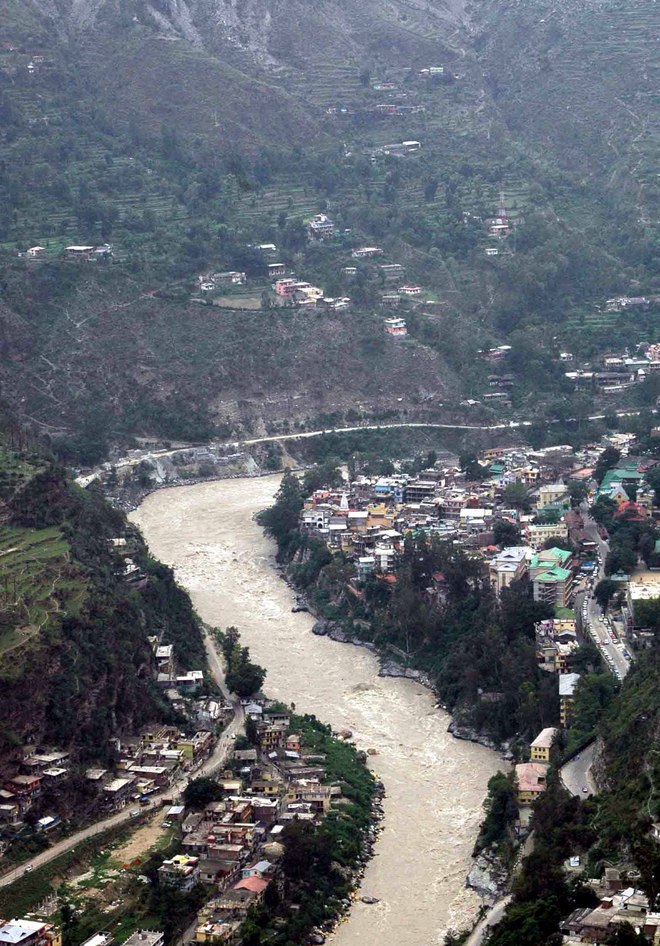 Kuldeep Chauhan
Tribune News Service
Shimla, August 18
Satluj Jal Vidyut Nigam Limited (SJVNL) has decided to construct the much-delayed 601 mw Luhri power project on the Sutlej in three phases, scrapping its earlier proposal to construct 38-km twin tunnels.
The Satluj Bachao Sangharsh Samiti (SBSS), which was against the construction of tunnels, welcomed the SJNL's decision while its petition is still pending in the National Green Tribunal (NGT). The Luhri power project will have three dams with three power houses located in their tow. "The construction of twin tunnels has been abandoned and the SJVNL has addressed environmental concerns raised by the SBSS and the state government," said project managers. As per sources, the SJVNL has spent about Rs 120 crore on the project without making much headway since 2008 when the project was conceived. The SJVNL took this U-turn after the Chief Minister and the SBSS asked the Nigam to abandon the construction of the twin tunnels on the ground that the tunnels could spell disaster for villages located right above them. The SJVNL has sent the pre-feasibility report to the Central Electricity Authority (CEA) approving the construction of the 219 mw Luhri phase I project. The project will have 86 m high dam at Nirath at a cost of Rs 2,000 crore with back water reaching Duttanagar near Rampur Bushair, said engineers.
"The cost of the Luhri project has shot up from Rs 4,800 crore to Rs 8,000 crore, though the SJVNL has yet to estimate the project cost of phases II and III," said the sources.
President, SBSS, Shayam Singh Chauhan said the samiti welcomed the SJVNL's decision to construct the project in three phases without constructing tunnels. "But the three dams will alter the climate and samiti believes the project needs to be built up for generating power," he added. Chauhan said the samiti's petition is still pending in the NGT as the SJVNL has to convey its latest change of design to the tribunal. "We have challenged project on the ground that the tunnels will deplete sources of natural water sustaining apple orchards and crops in several villages in Mandi and Kullu districts. Second, the Sutlej will disappear for over 30 km between Luhri and Khepu, the site of the power house," he added.
Mahajan said the total project capacity would be about 601 mw as was the case earlier. The phase I dam will come up at Nirath, phase II at Khepu and phase III at Khera downstream.
"There is no provision of tunnel. Three power houses will be built in tow along the lines of the Bhakra Dam project. Work on phase I will start as soon as they get approval from various Central agencies," Mahajan said.