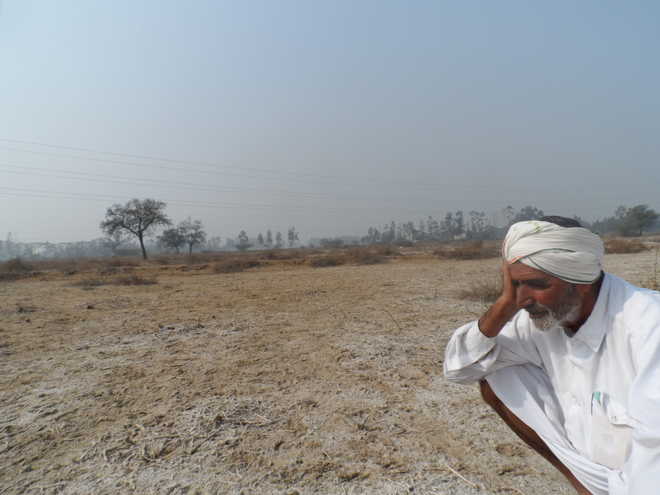 Sushil Manav
Tribune News Service
Badopal (Fatehabad), Jan 13
At a time when land of several farmers in Haryana produces wheat, mustard and cotton, that of Phoola Ram, a small farmer from Badopal village of Fatehabad, produces nothing.
The reason? Excessive soil salinity and waterlogging.
Phoola Ram is one of the several farmers of the district facing the same problem. Such is the acuteness of problem that land has been rendered incapable of producing any crop, leaving several farmers under debt.
"Farmers spend a lot on inputs only to find crops damaged because of excessive soil salinity," said another farmer Rohtash Jyani, whose 8 acres is affected.
He claimed repeated representations to the authorities had not yielded any result.
"The previous Congress regime had sent scientists to reclaim land when Badopal farmers wrote to the President, seeking permission for euthanasia. Nothing has been done after that," Jyani said.
Scientists of the Central Soil Salinity Research Institute (CSSRI) say that out of 2.49 lakh hectares in the district, 17,500 hectares is prone to waterlogging and salinity.
In Haryana, 3.8 lakh hectares is saline with 50,000 hectares facing acute problem. In Badopal alone, hundreds of acres are affected by salinity and waterlogging.
Sushil Kamra, a principal scientist in the CSSRI, who led officials of the Haryana Operational Pilot Project (HOPP) to prepare a project for the reclamation of waterlogged land in Fatehabad two years ago, said there was no early solution to soil salinity and waterlogging. "With the available resources, only 800 to 1,000 hectares can be reclaimed in a year."
"The reclamation work includes removing subsoil water through perforated horizontal pipes laid 5-foot beneath the surface by digging trenches. With this method, land is freed from salinity and waterlogging, making it fit for agriculture, though the water table still remains higher," he said.
Since land remained waterlogged for most part of the year, the machines could enter the fields only for three months in a year between April and before the start of monsoon, Kamra said, adding "the technique demands a drain nearby where water so removed from the subsoil could be put in".
The absence of a drain near Badopal is a bottleneck, as the Irrigation Department, according to Kamra, did not normally allow subsoil water to be put in their canals for the fear of contamination.
Chief Minister Manohar Lal Khattar had recently expressed concern at waterlogged land. In a tweet, he said: "Directed officers to constitute district & subdivision level contingency teams to immediately deal with problem of water logging."
Top Stories
Kohli not dwelling on all-win record against rivals